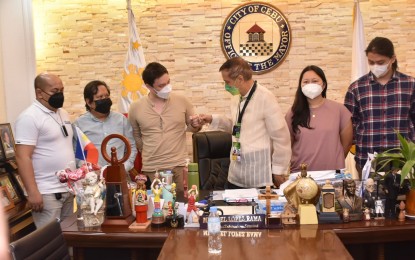 CEBU CITY – The city government here will collaborate with the United Nations Development Programme (UNDP) in promoting "circular economy", a program that fosters recycling in the neighborhood, Mayor Michael Rama said Friday.
In a statement, he said he met with officials of the UNDP's Typhoon Odette Recovery and Shield Mission to discuss prospects of formulating projects involving the city's drainage and garbage collection system.
He said the city is thankful for being chosen as among the 11 localities in the country that will receive aid from the UNDP to finance projects related to environmental conservation through recycling.
The mayor thanked UNDP program analyst Gwyneth Anne Palmos, governance specialist Jonathan Hodder, and program associate Paul Villarico for considering the city as one of the beneficiaries of their program.
He said the UNDP personnel visited him in his office at the City Hall on Thursday to discuss the proposal.
"They came to the Cebu City Hall last Wednesday to get information that will help their research for the preparation of what would be implemented here in Cebu," he said.
Rama welcomed the projects that will be funded by the UNDP in the amount of PHP700 million.
The team also visited Talisay City and met with Mayor Gerald Anthony Gullas to talk about areas of project development, which the UN organization could support for funding.
"We talked about our ongoing response to the damages brought by the Typhoon Odette together with the city's department heads," Gullas said in a separate statement.
He said the team assessed the needs of the residents of Talisay to know which area needs more help. "I'm thankful that the United Nations Development Programme made an initiative to visit our city during these very difficult times," he added.
Based in New York, USA, the UNDP is tasked with helping countries eliminate poverty and achieve sustainable economic growth and human development. (PNA)