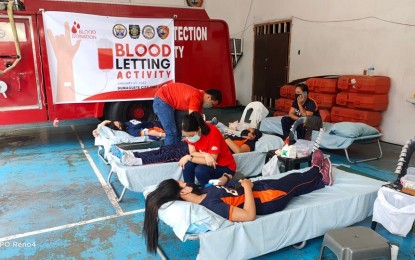 DUMAGUETE CITY – Negros Oriental Assistant Provincial Health Officer, Dr. Liland Estacion, on Friday appealed to the public to support the government's blood donation program amid a shortage of supply for patients in the province.
Estacion sounded the call during a virtual presser as she reiterated that the local government units (LGUs) have a primary responsibility as mandated by law to ask their residents to donate blood on a regular basis.
"The problem with many people is that they want to be given a card for the donation which they can use as an assurance of blood availability when the time comes that they would need it," she said in mixed English and Cebuano.
She said they no longer give out cards to blood donors because it is impossible to give any assurance that they can withdraw blood from the Provincial Health Office (PHO) at any given time.
"Our blood is for free and there is no need to pay for screening, except for having to spend for cross-matching between the donor and the patient," Estacion said.
She also lamented that the limited supply of blood in Negros Oriental is due to the apparent lack of support from LGUs.
Except for the municipality of Bindoy and a few others, the rest of the LGUs are not heeding the law on requiring at least one percent of its population to donate blood, Estacion said.
"I am calling on the LGUs to please cooperate with us because many people come to us asking for blood," she added.
The doctor called out to the Dumaguete LGU and its barangay officials to help ramp up the blood donation campaign of the DOH, especially as it is this capital city where most people in need of blood come from.
The PHO will give whatever blood is available but preference is given to the LGU that has donated, she said.
Advocates and other stakeholders in Negros Oriental are also calling on health authorities and local leaders to strengthen the province's blood donation program amid a perceived shortage of blood in the midst of the coronavirus disease 2019 (Covid-19) pandemic.
The group of advocates includes representatives from the Information and Communications Technology (ICT) association here, the Bureau of Fire Protection, the academe, DOH, and some individuals.
Joslyn Canon, community relations director of Qualfon Philippines, Inc., a business process outsourcing (BPO) firm, told the Philippine News Agency early this week that for starters, a loosely organized group has linked up with the PHO and the Department of Health (DOH) in Region 7 for the "revival" of the blood donation program.
"We have observed in the past several months that the availability of blood in hospitals and other accredited outlets has declined to almost nothing and people who are badly in need of it usually end up paying for it," Canon said.
"We have already facilitated external blood-letting activities last year in Cebu City, where our main office is located and we hope to replicate it in Negros Oriental with as many partners from various sectors hopefully this month," she added.
Estacion thanked the ICT group for its active participation in the revival of the DOH-7's blood donation program. She said representatives of the organization will discuss with them next week the problem of the unavailability of blood in Negros Oriental. (PNA)