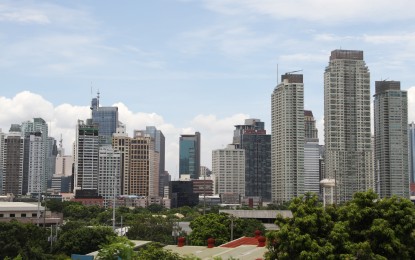 MANILA – The domestic inflation rate has decelerated but economists forecast a possible hike in Bangko Sentral ng Pilipinas' (BSP) key policy rates this year since upside pressures remain and because of the looming Federal Reserve rate hikes.
The Philippine Statistics Authority (PSA) reported on Friday another slowdown in the rate of price increases last January to three percent from the previous month's 3.2 percent, lower especially after the consumer price index (PSEi) rebasing from 2012 prices to 2018 prices.
ING Bank Manila senior economist Nicholas Mapa, in a report, said rebasing of the CPI base year, which resulted in lowering of the December 2021 inflation rate from 3.6 percent, "appears to have given Bangko Sentral ng Pilipinas (BSP) a little more space to retain its accommodative stance."
Citing the statement of BSP Governor Benjamin Diokno that the central bank "need not move in lockstep with the Fed", Mapa said this suggested that "he prefers to maintain his stance despite impending rate hikes by the Fed."
Mapa said "the base-year shift will have a material impact on 2022 inflation but we believe price pressures could intensify in the coming months" because there remains a supply issue on pork and crude oil prices continue to increase in the international market.
He, however, noted that "improving economic conditions have fueled the modest rebound of demand-side pressures, which could nudge inflation higher as well."
"Persistent inflation pressure coupled with the likely reversal in financial flows linked to Fed hikes could eventually convince a rather dovish Diokno to finally consider a policy adjustment by the end of 2Q," he added.
Relatively, Rizal Commercial Banking Corporation (RCBC) chief economist Michael Ricafort said the slower inflation rate in the first month this year "could help justify the relatively accommodative monetary policy in the country, especially in terms of keeping the key local policy rate unchanged at the record low of 2 percent (for the overnight reverse repurchase (RRP) facility).
"However, possible rate hike by the US Federal Reserve starting as early March 2022 and possible more Fed rate hikes later in 2022 to better address/rein in on elevated US inflation and better manage inflation expectations could lead to some increase in local policy rate, especially in the latter part of 2022, in view of the need to maintain comfortable interest rate differentials with the US and other developed countries," he said.
He added that since "recent inflationary pressures have been largely driven by supply-side factors and not necessarily due to higher demand, thereby better addressed by non-monetary measures rather than an outright increase in local policy rates that would not necessarily be effective in solving supply-related constraints."
The BSP's policy-making Monetary Board (MB) slashed the central bank's key policy rates by a total of 200 basis points in 2020 to help cushion the impact of the pandemic on the domestic economy. (PNA)