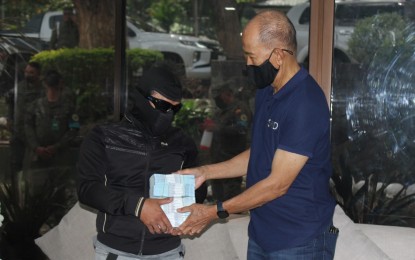 CAGAYAN DE ORO CITY – "Ricky", the informant who led government troops to the neutralization of ranking New People's Army (NPA) leader Jorge "Ka Oris" Madlos last year, has received his PHP7.8-million bounty.
Defense Secretary Delfin Lorenzana and Gen. Andres Centino, Chief of Staff of the Armed Forces of the Philippines (AFP), awarded the money on February 2 at the headquarters of the Philippine Army's 4th Infantry Division (4ID) at Camp Evangelista here, according to a news release.
Madlos, 71, was killed in a 30-minute encounter with the troops of the 4ID's 403rd Infantry Brigade in Barangay Dumalaguing, Impasugong, Bukidnon on Oct. 30, 2021.
Also killed was Eighfel Dela Pena (alias Pika/Maui), a medic of the National Operations Command of the Communist Party of the Philippines (CPP) - NPA Komiteng Mindanao.
The bounty has been put up since 2000 through the AFP-Philippine National Police Joint Order of Reward under the Department of National Defense and the Department of the Interior and Local Government.
"Ricky" had mask and dark eyeglasses on when he received the money for security reasons.
Lorenzana commended him for his bravery and thanked him for trusting the government despite the risks.
The DND chief hoped that aside from the monetary reward, other civilians would emulate what "Ricky" did, an act of shared responsibility and commitment to fast-track the government's goal to end the local communist armed conflict.
In a statement released Saturday, Brig. Gen Wilbur Mamawag, the new commander of 4ID, also expressed his appreciation to the informant.
"We all wanted to live in peace. But all of us must contribute our share to attain peace. Hence, I salute the likes of Ricky who stand courageously against the communist terrorist group. This also proves that the support coming from the civilians have altered the balance in an overwhelming favor toward the government and peace partners," he said.
Madlos faced multiple criminal cases such as robbery with homicide, damage to properties, murder, and double frustrated murder.
He was cremated after testing positive for Covid-19 and his remains turned over to his younger brother, Rito, on Nov. 11, 2021.
Government forces are also hunting down Madlos' widow, Myrna Sularte (alias Maria Malaya), the secretary of the NPA North Eastern Mindanao Regional Committee.
The CPP-NPA is listed as a terrorist organization by the United States, European Union, the United Kingdom, Australia, Canada, New Zealand, and the Philippines. (PR)