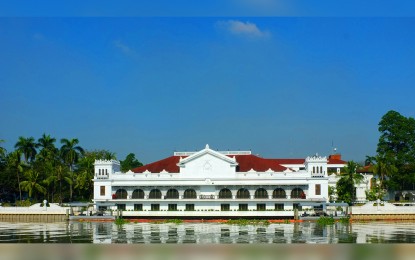 MANILA – President Rodrigo Duterte said he has already started packing up his belongings and getting ready to exit Malacañan Palace as the election campaign officially kicked off Tuesday.
"Nag-iimpake na po ako (I'm already packing). In a little over three months, 'yung excess wala na 'yun (the excess doesn't matter). So I should be out by --- by March. Hindi ko na paabutin ng Abril. Hindi na ako matutulog rin dito. Kung saan ako dalhin ng Panginoong Diyos, mag-practice na ako tulog doon (I won't stay until April. I won't be sleeping here anymore. Wherever the Lord God takes me, I'll practice sleeping there)," Duterte said in a prerecorded public address on Monday night.
Instead of staying at his official residence in Malacañang compound, he said he plans to buy a two-bedroom condo in Manila and only visit the Palace for "day-to-day" activities.
Duterte and his family's official residence is in Davao City.
"Magpunta na lang ako dito for a day-to-day trabaho (I'll go here for day-to-day work) and what's left of the things that we have to work on. Iyon ang (That's all)… At (And) I will make a speech one of these days thanking the people for the distinct honor of giving me the position as President," he added.
He said he wanted his next residence to be "affordable" because he could not afford an expensive house.
"Nagplano kami na ano magbili na lang ng --- 'yung mumurahin na… O hindi ko kaya kung maganda. Pag-alis ko dito, wala akong matirahan. Wala akong mga (We are already planning to buy an affordable house. I can't afford the nicer ones. When I leave here, I won't have a place to stay. I don't have) cousins because all of them are in America so wala akong bahay dito (I don't have a house here)," he said.
Duterte said he does not need a big house because his children are all grown up and even have their own political careers now.
"I don't know where, kung saan ako dalhin ng Diyos (where God would take me). But I trust that he would not let me down," he said.
Meanwhile, Duterte said he also looking forward to meeting his successor and inviting him or her for a tête-à-tête.
"I wait the day of turnover, matikman ko rin 'yung feeling ng (I would experience the feeling of being) outgoing President. I will be the one to meet the new president. Then I will invite him here for a tête-à-tête," he said.
In December 2021, Acting Presidential Spokesperson Karlo Nograles said Duterte is going to enjoy the privileges of being a private citizen and spend more time with his family when his term ends in June.
He said Duterte's decision to back out from the senatorial race will allow him to prioritize the country's Covid-19 response and ensure peaceful, transparent, and fair national and local elections. (PNA)