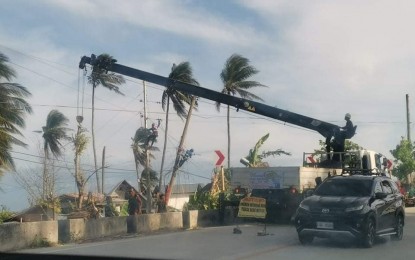 DUMAGUETE CITY – The Commission on Elections (Comelec) in Negros Oriental is seeking the assistance of the Department of Energy (DOE) to help fast-track the restoration of electricity in the towns and cities devastated by Typhoon Odette last December to ensure smooth conduct of the May 9 national and local elections.
Lawyer Lionel Marco Castillano, Comelec provincial election supervisor-designate of Negros Oriental, in an interview with the Philippine News Agency on Tuesday, said he is apprehensive that towns and cities that are covered by the Negros Oriental Electric Cooperative I (NORECO I) may not be fully energized before election day.
"NORECO I said the latest that they can fully energize its areas that are still without power would be April 30 and that is too close for comfort, that is just days away from the elections," he said.
That was the assurance that NORECO I gave to Comelec during a recent meeting with the Provincial Joint Security Council (PJSCC), he added.
In that meeting, NORECO I said it had energized about 40 percent of the areas in its coverage that were devastated by Typhoon Odette, the Comelec lawyer said, although no list was made available as to which barangays still had no power.
The coverage area of NORECO I is from Tanjay City all the way to Vallehermoso in the central and northern parts of the province.
"On the other hand, we do not have a problem with NORECO II, which covers Dumaguete City and the towns and cities in the south, because they promised to be fully energized by end of February," he said.
Castillano said he will be communicating with the DOE soon to determine if it can help send more electric cooperatives to assist NORECO I in its power restoration efforts.
NORECO I could not be reached for comment on which areas still do not have power.
Power firms from Tarlac, Zambales, Negros Occidental, and the Energy Development Corporation, have sent teams to assist NORECO I in the aftermath of the strongest typhoon to hit the Philippines in 2021. (PNA)