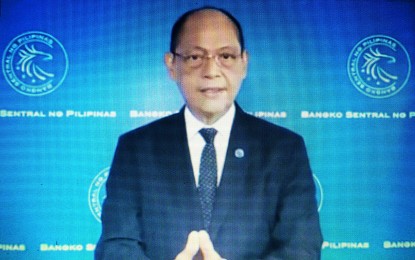 MANILA – An inter-agency cross-sectoral supervisory college for financial conglomerates is scheduled to start its pilot run in the second quarter of 2022 as regulators bid for closer collaboration and further align supervisory practices with international standards.
In a virtual briefing on Thursday, Bangko Sentral ng Pilipinas (BSP) Governor Benjamin Diokno said financial conglomerates account for around 60 percent of the domestic financial system.
"Given the systemic importance of these entities, FSF (Financial Sector Forum) members felt the need to further strengthen supervision for a more effective discharge of their mandates under their respective charters," he said.
Diokno said members of the FSF inked last January 25 a memorandum of understanding (MOU) for the establishment of the Supervisory College for Financial Conglomerate Supervision.
He said the supervisory college will be a forum for regulators to "discuss emerging significant risk issues, carry out impact analysis of the conglomerate risks, and come up with a supervisory plan."
The MOU, Diokno said, will help the regulators "to mitigate not only risks within the conglomerate but also the intra-conglomerate risks."
"We promote financial stability by ring-fencing the financial conglomerates. Ultimately, the real economic benefits from the stability of the financial sector and vice versa," he added.
Diokno said the supervisory college is also targeted to bring to international level the country's standards on principles for the supervision of financial conglomerates, which is published by the Basel Committee on Banking Supervision; the principles for cooperation in regulation, published by the International Organization of Securities Commission; and the principles of group-wide supervision, published by the International Association of Insurance Supervisors.
FSF is composed of the BSP, the Insurance Commission (IC), the Philippine Deposit Insurance Corporation (PDIC), and the Securities and Exchange Commission (SEC).
Diokno said the supervisory college will discuss a microprudential approach on risks and how to address these.
He said the inter-agency Financial Stability Coordination Council (FSCC), which is composed of the BSP, IC, SEC, PDIC, and the Department of Finance (DOF), will take on the macroprudential approach in tackling risks and contagion among differing financial markets, as well as the financial and real sector.
"So the supervisory college may elevate to the FSCC financial stability issues," he added. (PNA)