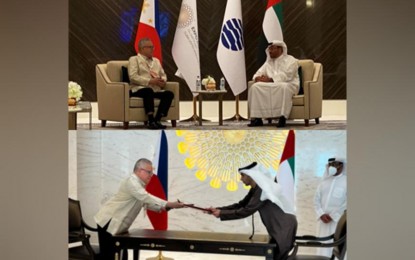 MANILA – The Philippines and the United Arab Emirates (UAE) have pushed for stronger economic ties after signing a bilateral investment agreement, and officially kicking off talks for a trade deal.
The Department of Trade and Industry (DTI) said the Investment Promotion and Protection Agreement (IPPA) was concluded during the visit of DTI Secretary Ramon Lopez in UAE for the Philippines' National Day at Expo 2020 Dubai last February 11.
"The IPPA is modern, business friendly, and comprehensive, covering promotion, facilitation and protection of investments. The agreement provides for the establishment of a Joint Committee on Investments (JCI), which will serve as a platform to more closely coordinate and collaborate in implementing a focused investment promotion that create(s) greater impact to both our economies," Lopez said in a statement Monday.
Lopez added this is timely as the Philippines passed the amendments to the Retail Trade Liberalization Act, Foreign Investments Act, and Public Service Act, the key economic bills that will relax equity restrictions for foreign investors.
Aside from the conclusion of the IPPA, the two countries will start official negotiations for the Comprehensive Economic Partnership Agreement (CEPA), a bilateral trade agreement.
"These initiatives are expected to boost trade and investments between two countries, leading to more diversified economic activities, development of new industries, employment generation, and higher consumer spending as we partner for shared prosperity," Lopez said.
The DTI chief added that through the IPPA and CEPA, the Philippines may serve as a strategic hub for UAE in Southeast Asia.
In his official trip to UAE, Lopez met with UAE Minister of State Ahmed Ali al Sayegh and Foreign Trade Minister Thani bin Ahmed Al Zeyoudi. (PNA)