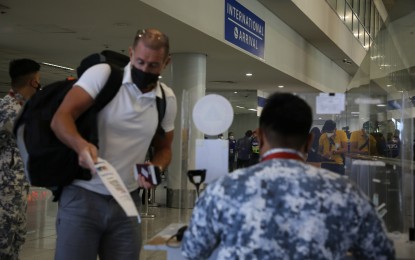 MANILA – The Department of Tourism (DOT) remains optimistic tourist arrivals further increase following the reopening of the country's borders last week.
As of February 14, actual inbound tourist arrivals from visa-free countries reach 9,283. DOT data also showed that of this number, 4,209 are returning Filipinos (balikbayan) while 5,074 are foreign tourists.
Tourism Secretary Bernadette Romulo-Puyat said the department is looking at a gradual pace in the influx of tourists, which will help in the recuperation of the local tourism scene.
"International travel and tourism saw an unprecedented decline in visitor arrivals amid the pandemic; the reopening of Philippines' borders to visitors from visa-free countries will surely help in improving our numbers," Puyat said.
"We at the DOT are excited to see a revival in our local tourism and will continue to support our partners in achieving this goal," she added.
Tourists from the US make up the largest chunk of foreign tourists from February 10 to 14 with 2,227 arrivals; followed by 661 from Canada; 404 from Australia; 344 from the United Kingdom; 189 from South Korea, 169 from Japan; and 168 from Germany.
Puyat also highlighted the country's readiness for the influx of foreign travelers further noting that more than 90 percent of its target tourism workers nationwide are fully-vaccinated.
"The DOT's goal has since shifted to providing fully vaccinated workers with booster shots, which will not only give them extra protection against the virus but will also add to the confidence of local and foreign tourists as they make their way to the country's many breathtaking destinations," she said.
As of February 11, a total of 323,206 individuals or 93.09 percent of the DOT's nationwide target of 353,075 tourism workers in various tourism-related industries are fully vaccinated against Covid-19.
Of this, 57,347 or 17.74 percent have received their booster shots.
The DOT reminded that fully vaccinated tourists are required to present proof of vaccination as approved by the Inter-Agency Task Force for the Management of Emerging Infectious Diseases or the World Health Organization, as well a negative RT-PCR test result taken within 48 hours prior to departure from the country of origin.
Exercise due diligence
Bureau of Immigration (BI) port operations chief Carlos Capulong advised the airline companies to exercise due diligence in ensuring that their passengers are compliant with the requirements set by the government.
He said airlines are primarily responsible if their customers are denied entry to the country.
"This is a joint effort by different government agencies, as well as the airlines who are the first to evaluate documents presented by travelers," he said in a statement.
He said foreigners who are ineligible for entry are excluded upon arriving at the airport and is boarded on the next available flight back to their port of origin.
Capulong, however, the airlines have been very helpful and cooperative "with these policies that we are duty-bound to impose."
BI Commissioner Jaime Morente also reminded the airline companies to only allow eligible foreigners to board their flights bound for the Philippines.
According to the Inter-Agency Task Force for the Management of Emerging Infectious Diseases (IATF), the country will only allow the entry of fully vaccinated foreigners, subject to the presentation of required documents.
Among the requirements are: acceptable proof of vaccination; negative RT-PCR test taken within forty-eight hours prior to departure from country of origin/first port of embarkation, excluding layovers, provided, the passenger has not left the airport premises or was not admitted into the transit country; valid return ticket to port of origin or next port of destination not later than 30 days from date of arrival in the country; passport valid for at least six months at the time of entry; travel insurance for Covid-19 treatment costs, with a minimum coverage of USD35,000 for the duration of stay in the Philippines. (with reports from Ferdinand Patinio/PR)