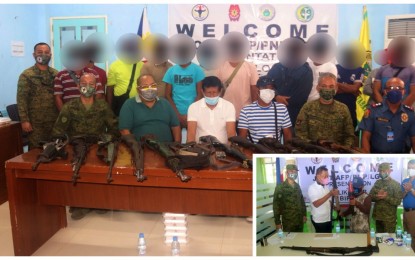 MIDSAYAP, North Cotabato – Tired of fighting for a futile cause, 14 members of the Bangsamoro Islamic Freedom Fighters (BIFF) yielded to the Army's 34th Infantry Battalion (IB) here, officials reported Tuesday.
Lt. Col. Edgardo Vilchez Jr., 34IB commander, said the BIFF members surrendered to his unit in two batches on Monday.
Vilchez said a BIFF field commander under the Kagui Karialan faction, identified as alias Malayo, was among those who surrendered along with his 12 followers and were accompanied by Norodin Akis and Dong Bantas, who are members of the Council of Elders of Midsayap.
It was followed by the surrender of another BIFF combatant identified as alias Nick Taro coming from Northern Kabuntalan, Maguindanao on the same day.
The 14 former BIFF extremists brought along high-powered firearms and various war materiel that included eight M1 Garand rifles, a Springfield .30-caliber sniper rifle, an M14 rifle, an M16 rifle, a rocket-propelled grenade, three .45-caliber pistols, and ammunition.
Vilchez said the 14 surrenderers, with their high-powered firearms, were formally presented to Midsayap Mayor Romeo D. Araña, and Mayor Ramil Umbra Dilangalen of Northern Kabuntalan, Maguindanao.
"The surrender of the BIFF field commander and 13 of his followers were a joint effort of the military, local PNP, and community leaders. The harmonious synergy between security forces and the community plays a vital part in compelling these extremists to surrender," said Col. Jovencio Gonzales, commander of the Army's 602nd Brigade in this province.
Meanwhile, Maj. Gen. Juvymax Uy, Army's 6th Infantry Division commander, lauded the 34IB, the police, local government units (LGUs) of Midsayap and Northern Kabuntalan towns as the surrender weakened the capability of the BIFF terror group.
"The influx of surrender of the BIFF including its field commander is a huge setback to the BIFF organization," said Uy, also the commander of the Army-led Joint Task Force Central.
"The JTFC will continue to strengthen our relationship with all security forces and LGUs to effectively address the threats of these terrorist groups to our nation," he added.
About 100 BIFF rebels have surrendered to the military in Maguindanao and North Cotabato since January 1. (PNA)