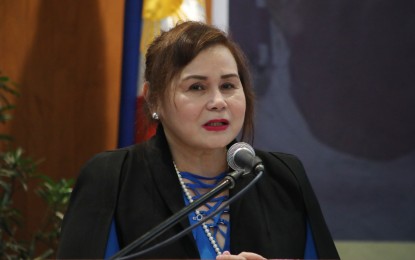 MANILA – Philippine Economic Zone Authority (PEZA) director general Charito Plaza has invited oil companies in the United Arab Emirates (UAE) to build and operate oil refineries in the country.
During the Global Biz with PEZA featuring the United Arab Emirates held in Dubai Tuesday, Plaza said oil companies based in the UAE can look into opportunities in making the Philippines its hub in the Southeast Asian region.
"We seek your help to talk with big oil companies here in UAE as we attract them to locate in our island refinery ecozones, so to bring their oil deposits, stock it in the Philippines and have it refined there," she said.
Plaza added UAE firms can take advantage of the ease of doing business as PEZA offers a one-stop shop for processing investments within ecozones and enjoying fiscal incentives and lower corporate income tax rate with the Corporate Recovery and Tax Incentives for Enterprises (CREATE) law.
Island refinery ecozone is a new type of ecozone that PEZA is pursuing to help the country secure petroleum needs and lessen its vulnerability from oil supply and price disruptions in the world market.
UAE is one of the biggest oil and gas producers in the world with a daily average production of 3 million barrels of petroleum and oil reserves of 100 billion barrels.
One-third of its economy depends on its oil and gas industry.
Aside from setting up oil refinery ecozones, Plaza said UAE companies may also explore opportunities in establishing halal ecozones, as well as Islamic banking in the Philippines.
She said there are only six locators from the UAE in PEZA zones with total investments amounting to PHP383 million and employing 1,049 personnel. (PNA)