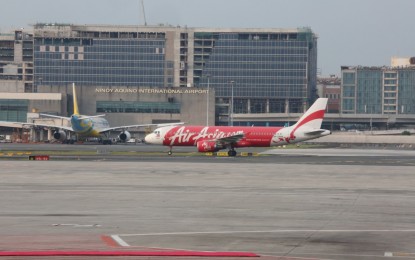 MANILA – AirAsia Philippines is set to launch two new domestic routes in April and May, and relaunch three international destinations in April to help hasten the recovery of the labor and tourism sectors from the impact of the Covid-19 pandemic.

"The resumption of flights to key cities in Asia will not only spur economic opportunities. It will also speed up the recovery process most especially in the labor and tourism sectors," AirAsia Philippines spokesperson Steve Dailisan told the Philippine News Agency on Tuesday.

By April, AirAsia Philippines will be flying again to/from Bali, Indonesia; Bangkok, Thailand; and Incheon, South Korea. Dailisan said the flight frequencies for these may be released next week.

Before the pandemic, he said the carrier used to fly to Incheon twice daily, to Bali once daily, and to Bangkok 11 times weekly, servicing tourists and overseas Filipino workers. Pre-pandemic load factors are as follows: 84.4 percent Incheon, Bali 89.8 percent, and Bangkok 92 percent.

Dailisan said two new domestic routes -- Dumaguete and Roxas -- will be launched in April and May, respectively.

"Opening Dumaguete and Roxas (routes) will play an important role in strengthening the Central and Western Visayas gateways, allowing guests coming from these provinces greater access to safe, convenient flights," Dailisan said.

In a news release, Dailisan said the government's simplified travel requirements and protocols have greatly influenced inbound travel and domestic tourism.

"The adaptive approach applied in our pandemic response is exactly what our country needs to move forward," he said, adding that the carrier is very glad about the progress.

The Philippines reopened its borders to fully vaccinated foreign tourists on February 10 after almost two years of closure due to Covid-19 pandemic restrictions. Inbound foreign travelers are no longer required to quarantine. (PNA)