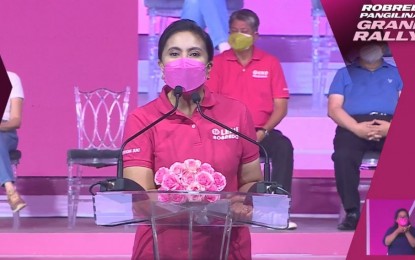 MANILA – The Council of the Laity of the Philippines has endorsed the presidential bid of Vice President Leni Robredo in the May 9 elections.
"With our current political-economic turmoil and the pandemic situation in the Philippines, we firmly believe that Vice President Leni Robredo, a God-fearing person, is the most capable candidate for the Presidency, and we urge our constituents, if possible, to consider the same," they said in an article posted on the Catholic Bishops' Conference of the Philippines (CBCP) news website on Tuesday.
It added that 11 of the council's 15 officials decided to support Robredo.
On the other hand, three officials abstained while one was absent during the voting.
The council said it made the decision after evaluating the track record and platforms of each candidate running for the highest elective post in the country.
An official also agreed to support the presidential candidate but with reservations because of her stance on same-sex union and decriminalization of abortion.
The group said there are still other issues that need further dialogue and cooperation but most of them agreed that Robredo "has the ability to implement partnerships for the advancement of the people especially the marginalized and her unassailable integrity, bested the others".
"Hence, we explicitly endorse Vice President Leni Robredo to the highest position of our land," they added. (PNA)