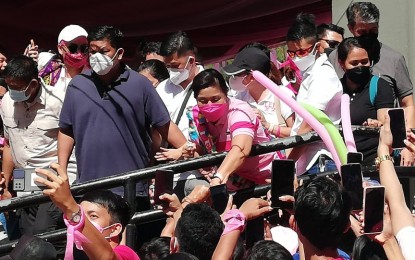 SAN JOSE DE BUENAVISTA, Antique – Vice President Leni Robredo on Wednesday reiterated her stand in supporting the "whole-of-nation" approach by the National Task Force to End Local Communist Armed Conflict (NTF-ELCAC) of the current administration.
The May 2022 presidential aspirant was in Antique and wooed this province's 400,000-strong voting population.
"I have no objection (against ELCAC), in fact, I am supportive to the 'whole-of-nation approach'," Robredo said in an interview, adding what she is against is for the program to be used for red-tagging.
The NTF-ELCAC was created through Executive Order 70 signed by President Rodrigo Duterte in 2018 institutionalizing the "whole-of-nation approach "to address the local communist armed conflict.
It is a convergence of various government agencies grouped into 12 clusters with their specific mandates.
Robredo added that for the program to become successful there is a need to build confidence among the former rebels that they are part of the country's development.
The Vice President said that she, her running-mate Francis "Kiko" Pangilinan, and their senatorial candidates were surprised with the overwhelming welcome they received.
Robredo also met the Gerona clan, who are her relatives in Antique province, particularly from the municipality of Hamtic. The Geronas are said to be mostly educators.
Robredo and Pangilinan vowed for a transparent and honest government once they win in the election. Both thanked the people for being there for them even for previous polls.
Robredo won in Antique when she ran for vice president.
Meanwhile, Antique Vice Governor Edgar Denosta, who introduced Robredo during the campaign rally at the Evelio B. Javier (EBJ) Park, said the province has been a recipient of various support from her office with the 1,000 sacks of rice for the Typhoon Odette victims, as the most recent assistance.
"The support given to Antique is proof that Robredo really loves the Antiqueños," Denosta said. (PNA)