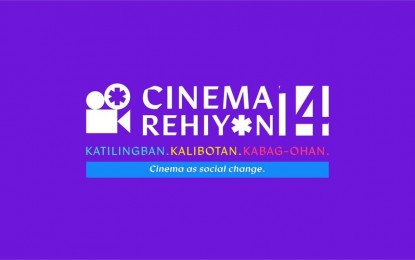 MANILA – Cinema Rehiyon, among the Philippines' most-awaited events for regional cinema, will run its 14th iteration from Feb. 25 to March 31 this year in Davao City, and nationwide through online video-on-demand platforms.
Cinema Rehiyon is the flagship project of the National Commission for Culture and the Arts (NCCA) - National Committee on Cinema. It coincides with NCCA's National Arts Month celebration which happens annually in February.
"The National Arts Month is an essential platform to cultivate appreciation for the arts and bring out a deep sense of respect for our cultures and traditions," NCCA chairman Arsenio "Nick" Lizaso said in a recent press conference.
The festival will follow the overall theme of the National Arts Month "Sining ng Pag-asa", with special emphasis on Films with Social Commentary.
The project aims to present the best of more recent regional films coming from Luzon, Visayas, Mindanao, and National Capital Region, with online talkbacks and forums dealing with the same concerns.
Amid the Covid-19 pandemic that has crippled the world for more than two years, there is an increasing importance to promote narratives from the peripheries and inspire regional filmmakers to continue telling their stories.
Going online for the second year on the National Committee on Cinema's Vimeo on Demand platform, the festival will provide an opportunity for regional filmmakers—first-timers, veterans, amateurs, professionals—to build networks and exhibit their films to a wider audience.
The non-competition film festival will also conduct limited capacity community screenings in coordination with local government units (LGUs) and art collectives in select cities and municipalities around the Philippines. It also aims to screen in international independent art spaces in coordination with Filipino communities and organizations.
Despite the persistent fear of the pandemic, NCCA's Subcommission on the Arts and the National Committee on Cinema maintains support in efforts of regional filmmakers at preserving their craft and to make films in these challenging times.
Cinema as social change
Cinema Rehiyon 14 (CR14) carries the theme "Katilingban. Kalibotan. Kabag-ohan." (Society. World. Change.) The festival positions cinema as a tool for social change that ripples from local communities to the entire world.
CR14 will feature short and feature films hailing from more than 100 entries that are programmed to be featured this year. These include submissions from the festival's open call; short films from the Asia-Pacific program; films with social commentaries; the best films of the regions; and 5 full-length films.
Online screenings of selected film sets will be available via the National Committee on Cinema's Vimeo Channel while other films bound for international screenings will be exclusively screened in domestic physical screenings.
CR14's physical screenings will be held in select areas with the support of LGUs, civil society organizations, and local film festival partnerships. There will also be physical pocket screenings for communities and household groups in isolation called Taboan Screenings.
At all times, strict guidelines will be implemented to ensure compliance to local, national, and international Covid-19 health and safety protocols. (PR)