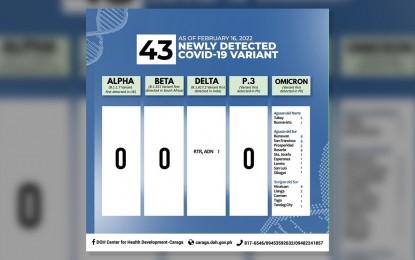 BUTUAN CITY – The Department of Health in Caraga ((DOH-13) has reported the detection of 42 Omicron variant cases in the region.
In a statement Thursday, the DOH-13 said the report was based on the February 16 biosurveillance result on samples earlier sent to the University of Philippines-Philippine Genome Center (UP-PGC).
The agency said two sets of samples were sent to UP-PGC in December last year and in January 2022.
"Forty-three variants of concern were detected in the region based on the findings on the samples sent, 42 are Omicron variant cases and one Delta variant case," the DOH-13 said.
The agency noted that the Omicron variant cases were detected in the different provinces in the region, including Agusan del Sur with 30 cases; Surigao del Sur, nine; and Agusan del Norte, three.
The lone Delta variant case was detected in Remedios T. Romualdez, Agusan del Norte, the report added.
"The majority of the confirmed cases are fully vaccinated. At present, all cases have already recovered, highlighting that only mild to moderate signs and symptoms were manifested during their time of active infection," the DOH-13 said.
The DOH-13, through the Regional Epidemiology and Surveillance Unit, is now coordinating with the local health authorities to continuously monitor the variants present in the region.
"The DOH and local government units with variants of concern have increased their health care utilization capacity by increasing beds in addressing the surge of cases, reorganizing manpower complement to cater more patients, securing medications and medical supplies, and monitoring oxygen supply," the DOH-13 said.
It added that remote management or home care management is also in continuous operation to guide families in homes for early signs and symptoms of coronavirus disease 2019 (Covid-19).
"The presence of the Omicron variant in the region is inevitable and expected since border restrictions have eased but we are constantly monitoring our health facilities as to bed capacity, manpower augmentation, and logistics supply," said DOH-13 Regional Director Cesar Cassion in the same statement.
He said continuous efforts in Covid-19 vaccination campaigns have proven to protect the populace against the debilitating effects of the Omicron variant.
"We are calling those who have not completed the primary series to get their shots, and for those who are fully vaccinated to immediately avail once eligible for booster shots for added protection," Cassion said. (PNA)