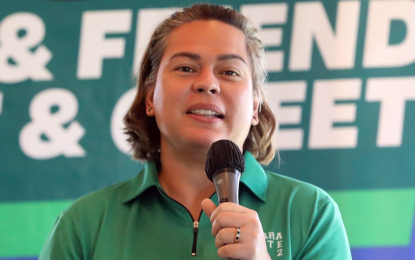 CEBU CITY – Mayor Sara Duterte on Thursday thanked the One Cebu Party led by Governor Gwendolyn Garcia for supporting her candidacy for vice president, with a commitment from "practically all" mayors in the province.
In a statement released by Duterte's spokesperson, Liloan, Cebu Mayor Christina Garcia-Frasco, the mayor of Davao City, said: "I am thankful to One Cebu Party and Governor Gwen Garcia for their support and endorsement of my candidacy for vice president."
"The Cebuanos have always been close to my heart as my family traces its roots to Cebu. I am also very thankful for the support of the Cebuanos for President Duterte in 2016," she said. "Together with One Cebu and the Cebuanos, we are hopeful for the victory of the UniTeam and our cause for unity and a better life for all Filipinos," she added.
Also on Thursday, Deputy Speaker Pablo John Garcia said Sara will enjoy the support of "practically all" the mayors in the 44 towns and six component cities of Cebu.
"We have always been supportive of Inday Sara. We thought all along that she will run for president, we would have supported her as president, it goes without saying," Garcia told the Philippine News Agency in a phone interview.
He said even as they are yet to pick a choice between candidates from different political parties, One Cebu confirmed its "long-standing support for and endorsement of Mayor Sara as candidate for vice president."
Although the focus in recent weeks has been the support for the presidential candidate, the Deputy Speaker said the party has always been for the younger Duterte "the moment she substituted as candidate for vice president". (PNA)