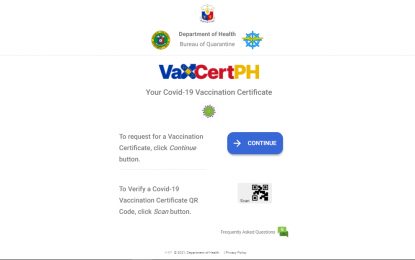 MANILA – An additional security feature will be integrated into the country's digital Covid-19 vaccine certificate (VaxCertPH), the Department of Information and Technology (DICT) said Thursday.
DICT acting Secretary Emmanuel Rey Caintic said updating security features is needed as more countries are now accepting VaxCertPH.
"Kailangan lang dagdagan (We need to add some) [features] in accordance with the standards," Caintic said.
He said the most important update is the inclusion of booster shots information in the certificate.
"Kapag kumuha kayo ng mga VaxCert, makikita niyo na rin ang pangatlong jab ninyo sa vaccine certificate (Once you get your VaxCert, you may also see your third jab in the vaccine certificate)," he said.
The Department of Health (DOH) has earlier urged all individuals with vaccine certificates to request the updated ones that can be accessed through www.vaxcert.doh.gov.ph.
"Hinihingi pa rin iyong datos ng pangalan ninyo at saka iyong mga petsa noong inyong pagbakuna at lalabas na rin iyong pangatlong booster shot (It will still ask you same data like name and dates of vaccination and information about your third booster shot will also appear)," Caintic said.
Individuals, he said, may also reach their respective local government units (LGUs) if they wish to correct their VaxCertPH information.
"Ang maganda din diyan, kung halimbawa may problema sa inyong datos, agad-agad na rin nilang maiwawasto (the good thing about that, is for example, there's a problem in your data, it could be revised immediately)," he added.
The government issues VaxCertPH to fully inoculated Filipinos.
The digital vaccine certificate can be used for domestic and international travel, with the guidelines of the World Health Organization (WHO) on digital documentation of Covid-19 certificates.
Caintic said transactions for requesting an updated VaxCertPH won't take too long.
"In a couple of minutes or less than a minute or a minute pa nga, kaya nilang i-click iyong generate VaxCert at lalabas naman din iyong panibago nilang VaxCert. Madali lang makakuha ulit iyon, lalabas lang iyong bago nilang QR code (In a couple of minutes or less than a minute or just a minute, if they the generate vaxcert, new vaxcert will appear. It's easy to get new ones, their new QR code will just appear)," he said.
So far, there are about 41 countries accepting the VaxCertPH. These are Armenia, Australia, Austria, Bahrain, Belgium, Canada, Colombia, Czech Republic, France, Georgia, Georgia, Hong Kong, India, Iraq, Italy, Japan, Kazakhstan, Kuwait, Oman, Qatar, Samoa, Slovenia, Sri Lanka, Switzerland, Thailand, The Netherlands, Tunisia, Turkey, UAE, UK, USA, Vietnam, Brazil, Israel, Timor Leste, Republic of Korea, Malaysia, and the Republic of Ireland.
Caintic added that some establishments in the country also accept VaxCertPH. (PNA)