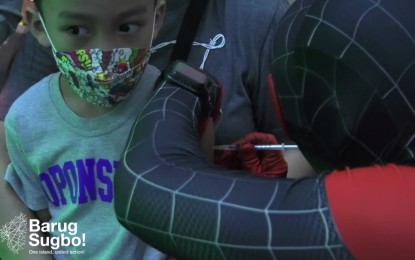 CEBU CITY – Vaccination of children aged 5 to 11 against coronavirus disease 2019 (Covid-19) in Metro Cebu is doing well, with about 6,000 kids receiving their first dose during the campaign's first five days, a health official said Friday.
Dr. Mary Jean Loreche, Department of Health-Central Visayas (DOH-7) chief pathologist, said the inoculation of the younger children received a strong support from parents, thus the accomplishment in a short period.
"It's actually a good number in response, considering that it's just a few days from our rollout. Also, Cebu City and Liloan town started their kids' vaccination last Wednesday or two days after the other Metro Cebu LGUs (local government units)," Loreche said in a message to media.
She said more localities in Metro Cebu and other towns of the province will start their pediatric inoculation any time next week, as the DOH-7 assured the public of enough vaccine doses for this age group.
"Possible also that we need to encourage more parents to bring their children to vaccination site," she added.
The DOH-7 projected a total of 121,184 children aged 5 to 11 who are eligible to receive the specially prepared Pfizer vaccine.
Meanwhile, the city government here on Friday resumed the drive-thru vaccination at the New Normal Oasis for Adaptation and a Home (NOAH) Complex in the South Road Properties.
"This is one way to encourage more people to get vaccinated, now that we noticed dwindling number of people who are getting their jabs," NOAH Complex manager Councilor Jocelyn Pesquera said in a statement.
The drive-thru inoculation is open Monday to Saturday, from 8 a.m. to 4 p.m. for adults, senior citizens, and persons with comorbidities. (PNA)