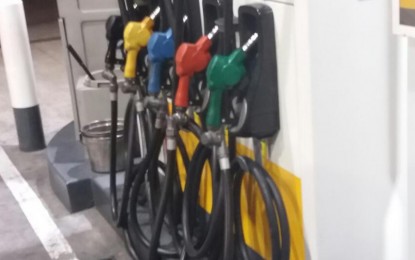 MANILA – The government has assured that funds have been allotted for the provision of fuel subsidy as soaring oil prices continue to take a toll on public utility vehicle (PUV) drivers.
Cabinet Secretary Karlo Nograles, who is also acting presidential spokesperson, said in a Palace briefing on Friday that under the 2022 General Appropriations Act (GAA), the government can give fuel subsidies to PUV drivers amid high oil prices but the law says it should follow a 'three-month' rule.
"Under the special provision of a fuel subsidy program, the funds will be released when the average Dubai crude oil price based on Mean of Platts Singapore or MOPS for three months reaches or exceeds USD80 per barrel," Nograles said.
He added that the Department of Transportation (DOTr) and the Land Transportation Franchising and Regulatory Board (LTFRB) have already submitted the initial master list of beneficiaries for the fuel subsidy program, but it is up to the Department of Budget and Management (DBM) to interpret the 'three-month rule' provision in the law before releasing the aid.
"The DBM has to interpret what the 'three-months' mean so we can tap the fuel subsidy program," he added.
According to Investing.com, Dubai crude oil traded at USD91.56 per barrel on Thursday. Since January 11, its price breached the USD80 per barrel level and has not slipped since then.
From November 16, 2021, to Feb. 16, 2022, average price of Dubai crude oil was at USD79.83 a barrel.
Department of Energy Oil Industry Management Bureau Director Rino Abad told the Philippine News Agency that PHP2.5 billion was allocated for Pantawid Pasada Program under the 2022 GAA.
"There is the so-called Pantawid Pasada Program implemented through the DOTr and LTFRB. The program mitigated the impact of the then series of oil price increases and higher excise taxes due to the Tax Reform for Acceleration and Inclusion (TRAIN) law," Abad said.
He said in 2018, some PHP900 million from the proceeds of the TRAIN law was allotted for the fuel subsidy program that provided 179,852 legitimate public utility jeepney (PUJ) franchise holders a subsidy of PHP5,000 each.
"An additional PHP2.3 billion was again allocated to provide a PHP20,515 yearly subsidy in 2019. For the year 2022, Congress again provided the DOTr and LTFRB with PHP2.5 billion for the continued implementation of the program," Abad added. (PNA)