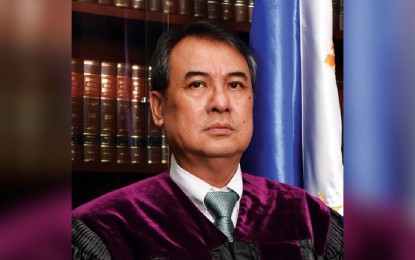 MANILA – Chief Justice Alexander Gesmundo on Friday reminded judges to keep abreast with advances in technology and its role in the administration of justice.
Speaking during the hybrid oath-taking ceremony of the 2022-2023 national officers and regional directors of the Philippine Judges Association (PJA), Gesmundo noted the importance of keeping up with the times and how technology plays an integral part in the dispensation of justice.
"You must have heard that the Supreme Court is focused on introducing innovations, how we conduct our business as a Court, through focusing on technology. So we hope that we can start putting things in proper places. We might say that the ambition of the Court is hard to reach but if we decide and we have the will, we can do it. Technology is very important...With your support, we will be able to achieve these innovations that we want to introduce," he said.
Gesmundo also reminded the judges of their role as front-liners of the judiciary.
"As front-liners, ideally and under normal circumstances, you are the first contact persons of the litigants, especially the first level courts. For that reason, we must assure that people transacting with the court involving cases must be satisfied with the way you are doing things at the trial court. Because if they are frustrated, it reflects on the entire Judiciary," he added.
Gesmundo likewise encouraged the members of the PJA and other judges to support all the judicial reforms of the Court, as he acknowledged that they "play an important role in the entire scheme of the Judiciary."
The PJA is the association of Regional Trial Court (RTC) judges that is duly recognized by the Supreme Court. (PNA)