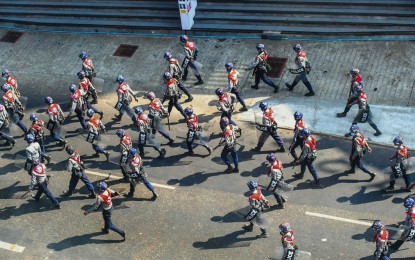 MANILA – The Philippine government will not accept the Regional Comprehensive Economic Partnership (RCEP) ratification instrument of military junta-led Myanmar, unless it stands in the way of a consensus in the Association of Southeast Asian Nations (Asean).
The 15-nation trade agreement was signed in November 2020 and entered into force on January 1 after the ratification of at least six Asean member states and three free trade agreement partners, including Australia, Brunei Darussalam, Cambodia, China, Japan, Laos, New Zealand, Singapore, Thailand, and Vietnam.
Foreign Affairs Secretary Teodoro Locsin Jr. delivered the country's position during the Asean Foreign Ministers' Retreat in Cambodia on February 17.
"The Philippines will not accept Myanmar's Instrument of Ratification (of RCEP). But if that stands in the way of my sister Indonesia and my brothers in Asean achieving consensus, I will not stand in the way and yield to their judgment," Locsin said.
New Zealand previously declared it will not deal with Myanmar under the said accord amid the humanitarian crisis since the military seized power in February 2021.
According to the accord's legal text, the RCEP agreement will enter into force for other signatory states 60 days after depositing their instrument of ratification, acceptance, or approval to the Secretary-General of Asean as the depositary.
The Philippine Senate has yet to concur with the ratification of the agreement.
International relations expert and Associate Professor at Anwar Gargash Diplomatic Academy Rikard Jalkebro said Manila's latest statement was a "good and well-reasoned move".
"It reflects well on the Philippines in the sense that it is standing up against military coups and military rule. At the same time, Secretary Locsin is playing it safe by opening for (change) based on Asean consensus," he said in a statement.
"I assume he is hoping that this might lead to dialogue and better communication with Myanmar. It will likely mean that the junta will be under more pressure and it will be costly for them to stand outside of the RCEP," he added.
It is not yet clear if other RCEP signatory states will follow suit, but if they do, Jalkebro said it would pile on the pressure on Myanmar given that they're already suffering from economic sanctions.
"I think it is rather interesting that the Philippines (Locsin) has gone out on a limb to make this statement," he said. "Disagreement and weakness regarding Myanmar have been an issue in the past. At the same time, someone needs to make the first stand, in this case, the Philippines."
'Genuine dialogue'
Locsin said he welcomes the military regime's commitment to support the new Asean Chair's Special Envoy on Myanmar in moving to fulfill the Five-Point Consensus without any other agenda.
He said the dialogue must include all stakeholders, including Daw Aung San Suu Kyi and President Win Myint.
"It should be a genuine dialogue and not a ventriloquist act," Locsin said.
He then reiterated Manila's call for the full and swift implementation of the Five-Point Consensus, which must not be linked to any roadmap that Asean leaders did not agree to.
The five points agreed upon in April last year are immediate cessation of violence in Myanmar and all parties shall exercise utmost restraint; constructive dialogue among all parties concerned to seek a peaceful solution; a special envoy of the Asean chair to facilitate mediation of the dialogue process; humanitarian assistance; and a special envoy and delegation to visit Myanmar and meet with all parties concerned.
Ousted Myanmar leader Aung San Suu Kyi is facing 11 charges that have maximum sentences of more than 100 years but denied them all.
She has been in detention since a military coup in February last year toppled her.
In December, the 76-year-old Nobel Peace Prize laureate was handed a four-year sentence, that was reduced to two years. for inciting dissent and breaking Covid-19 rules .
She got another four years in January for for breaching the export-import law by importing and owning walkie-talkies, having a set of signal jammers, and breaching the natural disaster management law related to coronavirus rules while campaigning. (PNA)