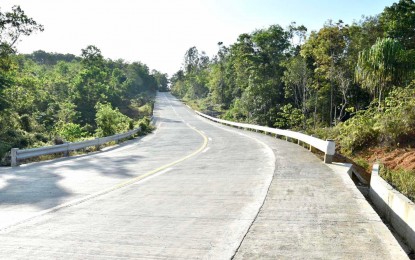 MANILA – The road network expansion program of the Department of Public Works and Highways (DPWH) is paving the way for a new direct link between Dipolog and Pagadian cities.
The upgrading of Tampilisan-Sandayong Road, a combined village-municipal road to standard specifications of a secondary national road in Zamboanga del Norte, will enhance agricultural, trade and commercial activities and accompanying sustainable value generation.
According to a news release on Sunday, the 17.6-kilometer project stretches from the junction of the Dipolog-Ipil National Highway and the Barangay Sto. Niño road to Barangay Sandayong's road crossing, leading to Naga, Zamboanga Sibugay.
Included in the project are the replacement and construction of three bridges including slope protection works, and provision of reinforced concrete box culvert and pipe culvert.
The road improvement is one the legacy projects of the Duterte administration's "Build, Build, Build" initiative that alleviates poverty by supporting the movement of people, goods, and services to and from communities, according to Undersecretary Emil Sadain, Unified Project Management Office operations chief.
The infrastructure project is under the Improving Growth Corridors in Mindanao Road Sector Project financed by an Asian Development Bank loan and implemented by DPWH UPMO Roads Management Cluster 2 (multilateral) headed by Director Sharif Madsmo Hasim. (PR)