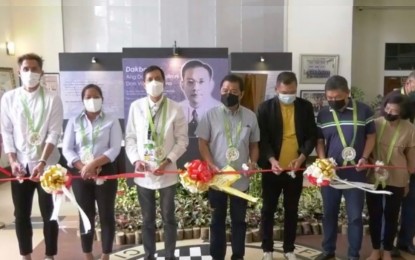 CEBU CITY – The Cebu City government on Monday paid tribute to the late senator Don Vicente Rama to recognize his works of making the then Municipality of Cebu into a chartered city during the Philippine Commonwealth.
The Museo Sugbo launched an exhibit of Don Vicente's memorabilia at the Cebu City Hall to highlight Don Vicente's contribution to the transformation of this historical municipality into what it is today, the capital city of the Province of Cebu.
In his speech, Mayor Michael Rama recalled how Don Vicente, who is his grandfather, championed the city's charter in 1937, with the late President Manuel L Quezon coming down to the National Assembly to personally ask assemblymen to pass the Cebu City Charter.
"As we mark this week our 85th charter anniversary, we will announce the blueprint to our road to recovery that we charted over the past weeks. It is the product of bright minds among our active citizens who passionately chose to work with us in government, through a series of discussions online and at the city hall in what we refer to as the convergence," Rama said during a press conference after the opening of the exhibit.
Maria Cecilia Cabañes, curator of Museo Sugbo, said the exhibit of Don Vicente's compilations of newspaper clippings and documents is in preparation for the charter anniversary on February 24.
She said the event carries the theme, "Dakbayan: Ang Kabilin ni Vicente Rama sa Sugbo" (City: The Legacy of Vicente Rama of Cebu), as it underscored his works – several drafts of the proposed Cebu City Charter in English, Spanish, and Cebuano versions – that led to the passage of Commonwealth Act No. 58.
Supporting documents such as statements from the Department of the Interior and Local Government and Department of Finance on the projected income and expenses once the capital turned into a city were put on display for public viewing at the exhibit.
Also featured is a copy of Resolution No. 185 pushing for the chartering of Cebu and calling for the increase in the share of the internal revenue collection for the future city.
The exhibit likewise included some photographs of significant events during the signing of the Cebu City Charter by Quezon as well as the inauguration of the commonwealth government.
Rama urged his constituents to remember how his grandfather fought for the passage of the city's charter which, he said, is a mark of a real Cebuano who works for what is good for Cebu.
"Those who cannot remember the past will always have the pain of being condemned," he said, quoting famous philosopher Jorge Santayana. (PNA)