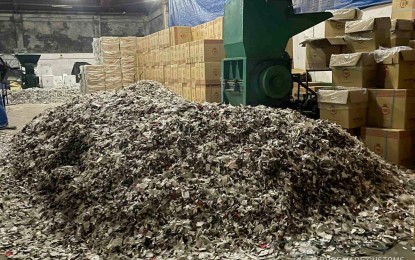 MANILA – A total of 2,027 master cases of smuggled cigarettes worth PHP16 million have recently been destroyed by the Bureau of Customs (BOC) Port of Cagayan de Oro.
In a statement Monday, Port of CDO District Collector Elvira Cruz said the illegal shipments were condemned inside the facility of Greenleaf 88 Non-Hazardous Waste Disposal in Barangay Bayabas in Cagayan de Oro City last February 18.
The cigarettes destroyed through shredding include the brand YS Red, Titan Green and Titan Red which were seized in two separate shipments from China declared as "used furniture".
Cruz said the important message of condemnation activities to smugglers is to halt their unscrupulous activities defrauding the government of revenues which also disrupts the tobacco industry in the country.
She also assured to assist in the filing of cases against consignees of the said shipment through the legal arm of BOC the Bureau's Action Team Against Smugglers (BATAS).
The condemnation of seized, forfeited, or abandoned goods will also help in decongesting ports from overstaying containers to improve trade facilitation.
Meanwhile, the Port of Cebu reported the seizure of 45 packages of used computer LED monitors, used laptops, and processors worth PHP3 million on February 15.
District Collector Charlito Martin Mendoza said the shipment worth PHP3,040,548 was declared to only contain computer LED monitors. An Alert Order was issued against the shipment based on derogatory information from the Intelligence Group that the shipment contains undeclared items.
Mendoza added that the misdeclaration/undeclaration of the goods resulted in a discrepancy in taxes and other charges amounting to PHP306,974 -- five times the tax payable based on the importer's declared value.
A Customs examiner conducted a 100 percent physical examination of the shipment which confirmed the presence of undeclared items.
Mendoza immediately issued a warrant of seizure and detention against the shipment after finding probable cause for violation of Section 1113 (F), (I), and (L-3, 4, and 5) in relation to Sections 117 and 1400 of the Customs Modernization and Tariff Act. (PNA)