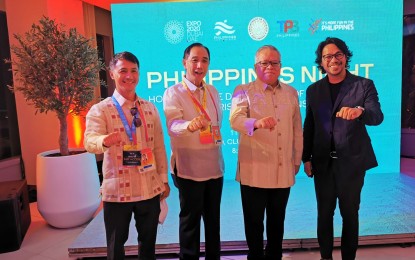 MANILA – The Bases Conversion and Development Authority (BCDA) has invited companies from the United Arab Emirates (UAE) to explore opportunities in New Clark City.
The BCDA is part of the Philippine delegation to UAE for the Philippines' National Day at Expo 2020 Dubai from February 9 to 13.
In a statement Monday, BCDA officer-in-charge and chief executive officer Aristotle Batuhan said the BCDA has taken advantage of joining the Philippine delegation Dubai as face-to-face business events "do not come very often" during the pandemic.
Batuhan said that on the sidelines of the Expo 2020 Dubai, BCDA promoted New Clark City as the country's next smart, sustainable, and inclusive metropolis where UAE firms could expand and put up their businesses.
"Overall, the BCDA's visit to Dubai was a productive one as we were able to engage investors and showcase New Clark City as an attractive business hub," he said.
Located in Central Luzon, New Clark City is part of the Duterte administration's "Build, Build, Build" program positioned as an alternative government center and investment hub outside Metro Manila. This project also aims to decongest the National Capital Region.
Through inviting UAE firms to invest in New Clark City, the BCDA believes that the country can tap the expertise of Dubai in infrastructure development and urban planning.
BCDA senior vice president Arrey Perez said several UAE companies expressed their interest in exploring investment opportunities in the Philippines.
"These are still subject to further exploratory talks. They might be interested to partner with us or a private company," he said. (PNA)