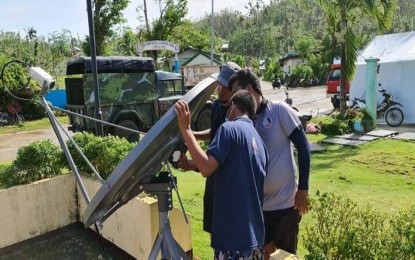 BUTUAN CITY – As two more Very Small Aperture Terminals (VSAT) were installed on Siargao Island in Surigao del Norte, the residents are now assured of connectivity after the devastation of Typhoon Odette in December last year.
The Department of Information and Communications Technology-Caraga (DICT-13) has reported the installation of two more VSATs in the towns of San Isidro and Burgos on February 19 and 20, respectively.
DICT-13 OIC Regional Director Leo Ugto told the Philippine News Agency that VSATs are built temporarily to restore lifeline communications on the island until the internet service from private telecommunications company becomes stable.
He added that a total of six VSATs with "Konek Tawag" services are providing communications services in Siargao island particularly in the towns of Dapa, Burgos, Pilar, San Benito, San Isidro and Sta. Monica.
The "Konek Tawag: Libreng Tawag sa Lahat" program is being implemented by the DICT for residents who have no power or source of internet so they can make free calls, video calls, and online research.
DICT-13 data also showed that seven active VSATs, with "Konek Tawag" services, are also in operation in the Province of Dinagat Islands, particularly in the towns of Basilisa, Cagdianao, Libjo Loreto, Tubajon, Port of San Jose, and at the Provincial Disaster Risk Reduction Management Office – Emergency Operations Center in San Jose.
Prior to the onslaught of Typhoon Odette, DICT- 13 has established free Wi-Fi internet access in Siargao and Dinagat Islands as part of the agency's Free Wi-Fi for All program.
"While the VSATs are temporary only, the Free WI-Fi program is permanent and it targets to establish free Wi-Fi access not only to the Odette-stricken areas but all towns in the region. This will boost the connectivity of the provinces," Ugto said.
The installation of VSATs in typhoon-affected areas in Caraga is being implemented by DICT-13 in collaboration with the World Food Program. (PNA)