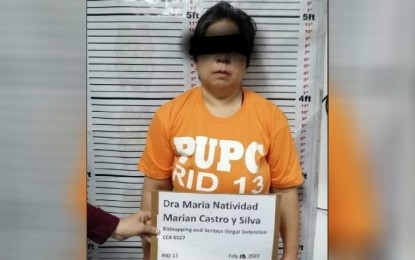 MANILA – Dr. Maria Natividad Castro, alias Dok, is an active member, recruiter, trainer and fundraiser of the Communist Party of the Philippines-New People's Army-National Democratic Front (CPP-NPA-NDF).
This was confirmed by former CPP-NPA-NDF member Gleceria Balangiao, liaison officer of the Rural Missionary of the Philippines-Northern Mindanao Region, during a virtual press briefing of the National Task Force to End Local Communists Armed Conflict (NTF-ELCAC) on Monday.
Balangiao, alias Ka Inday, told the press that she personally met Castro several times between 2006 and 2009 during meetings and trainings of NPA fighters on "first aid" treatment for wounded terrorists.
She said she first met the lady doctor in Cagayan de Oro where Castro works and gives trainings in community-based areas controlled by the NPA.
Balangiao added that Castro is also into "recruiting health professionals" to join the terrorist movement as "medics".
She said Castro has the innate ability to lead and organize. As finance officer then, she saw how Castro took part in preparing "project proposals" on how to carry out trainings for first aiders and to seek international funding.
"Magaling siya sa mga project proposals na ginagamit sa mga community-based (trainings) at paghingi ng pondo sa abroad (She is good at making project proposals being used in the community-based trainings and solicitation of funds abroad)," Balanguiao, who joined the terrorist organization after graduating from college, revealed.
She, too, witnessed how the funds from a European Union organization were being channeled to the Communist Terrorist Groups (CTGs).
"May natanggap kaming pondo, at ginagamit ito sa pagsuporta sa mga pangangailangan ng kilusan (We received funds, and these are being used to support that needs of the group)," she said, with the main scheme of "60-40" sharing.
This means 60 percent of the fund will go to the "partidong komunista" (communist party) while 40 percent of the money will go to the unit that will implement the project.
Undersecretary Lorraine Marie Badoy, the Task Force's spokesperson on Sectoral Concerns, said Castro is an enemy of the state, as far as the NTF-ELCAC is concerned, explaining that the doctor "is not a simple member of a terrorist organization -- which is a serious crime in and of itself, but actually "a Central Committee member" of the CPP-NPA-NDF -- "an organization that has been designated by the Anti Terrorism Council as a terrorist organization."
Arrested humanely
Maj. Dorothy Tumulak, Public Information Officer of Police Regional Office 13 (Caraga), on the other hand, belied reports of left-leaning groups that Castro was not properly treated when she was arrested.
"Her arrest was part of our intensified campaign against wanted persons. And was accorded properly with her rights as we implement the warrant and was arrested humanely," Tumulak said.
She added that Castro was also brought to Quirino Hospital for a medical checkup as per protocol and was not immediately flown to Davao to be brought to Bayugan City custodial facility because of the delay in the issuance of medical certificates.
"The following day (Feb. 19, 2022) she was visited by CHR (Commission of Human Rights) representatives. By 4 p.m., city and municipal health doctors again conducted another medical checkup on her request. At 5 p.m., her lawyer and sisters arrived and talked to her. She is cared for just as the others," Tumulak said.
Associate Provincial Prosecutor Flosemer Chris Gonzales, spokesperson of the Legal Cooperation Cluster, RTF-ELCAC 6, confirmed that there was nothing wrong or illegal in Castro's arrest.
"The case files against her underwent preliminary investigation where the respondent can rebut the prosecution's finding of probable cause to charge her of kidnapping. The judge also saw the probable cause. The arrest warrant was legitimately issued," Gonzales said.
He cautioned left-leaning organizations and other groups from issuing statements "parroting the propaganda of CPP-NPA-NDF" that has no bearing on the doctor's case for kidnapping.
Successful collaboration
The Eastern Mindanao Command (Eastmincom) attributed the successful neutralization of communist leaders and members to support operations conducted by military and police forces.
In a statement Monday, Lt. Gen. Greg Almerol, commander of the Eastmincom, cited Castro's arrest as an "ultimate example of the strong synergy among our security forces".
"Castro must face the charges filed against her before the court to give justice to the victims of her atrocities," he said.
On the same day that Castro was arrested, combined troops of the 402nd Infantry Brigade and Misamis Oriental Provincial Police Office likewise killed an NPA leader and his wife during an encounter in Barangay Odiongan, Gingoog City.
The CPP-NPA is listed as a terrorist organization by the United States, European Union, the United Kingdom, Australia, Canada, New Zealand, and the Philippines.
The Anti-Terrorism Council also formally designated the NDF as a terrorist organization on June 23, 2021, citing it as "an integral and inseparable part" of the CPP-NPA that was created in April 1973. (With a report from Che Palicte/PR)