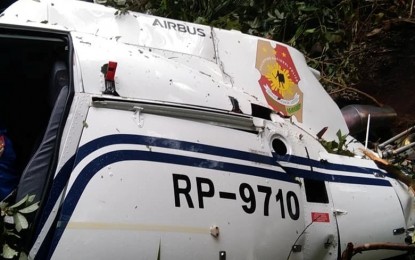 MANILA – Department of the Interior and Local Government (DILG) Secretary Eduardo Año on Tuesday said there is no need for Philippine National Police (PNP) chief, Gen. Dionardo Carlos, to go on leave amid the investigation on the crash of a police helicopter in Real, Quezon.
This came following reports that the ill-fated helicopter was supposed to pick him up from the exclusive resort island of Balesin on Monday morning.
"He (Carlos) is still the chief PNP and it's rightful for him to use the PNP chopper to be able to attend a forthcoming official duty when there are no other available means," he said in a message to the Philippine News Agency.
Año also cleared Carlos of any liability and said the investigation will "focus on the cause of the accident".
Monday's chopper crash resulted in the death of an enlisted crew member, Pat. Allen Noel Ona, while the aircraft's pilots, Lt. Col. Dexter Vitug and Lt. Col. Michael Melloria, were severely injured and now undergoing treatment.
The helicopter took off at 6:17 a.m. in Pasay City and was initially reported missing but was later discovered to have crashed in Real, Quezon two hours later.
Rescue teams from the PNP, Bureau of Fire Protection (BFP), and local government unit (LGU) reached the crash site in Barangay Pandan around 8:05 a.m. where the three police officers were pulled out of the chopper.
The PNP has formed a Special Investigative Task Group (SITG) to probe the incident.
PNP spokesperson, Col. Jean Fajardo, said the SITG will look into all possible angles on the crash with the assistance of the Civil Aviation Authority of the Philippines (CAAP).
Fajardo, however, maintained that Carlos was in Balesin for some "family time" and not for any political reasons.
She added that Carlos was supposed to be picked up by the helicopter for him to be able to attend Monday's flag-raising rites and go back to work in Camp Crame, Quezon City as the commercial flight he was about to take was unavailable.
Fajardo said Carlos will shoulder all medical expenses of the injured policemen and will provide financial assistance, especially to the patrolman who died.
The PNP National Headquarters has grounded the entire fleet of H-125 Airbus police helicopters while an investigation is underway in coordination with CAAP, the Department of Transportation, and other concerned agencies.
Explain presence in Balesin
Meanwhile, Partido Reporma standard bearer Senator Panfilo "Ping" Lacson on Tuesday said Carlos should explain his presence on the exclusive resort island.
"Let's not prejudge CPNP (Chief PNP) Carlos, di natin alam kung ano ang talagang may official function siya doon ngayon, kung personal yun medyo may problema siya doon (we don't know yet on whether he has any official function there, now if that is personal, he might have a problem). I hope the PNP can clarify that particular issue," said Lacson, a former PNP chief, in an interview with reporters.
Meanwhile, another former PNP chief and senatorial candidate Guillermo Eleazar extended his sympathies to the family of the lone fatality in the mishap.
At the same time, Eleazar said he joins the men and women of the PNP in praying for the full recovery of the two pilots who were injured in the chopper crash.
PNP chief speaks up
Meanwhile, Carlos confirmed that he traveled to Balesin on Sunday afternoon.
"Over the weekend, I attended the PMA (Philippine Military Academy) Alumni Homecoming at PMA, Baguio City, and returned to Crame, QC Saturday afternoon. The following day, Sunday afternoon I traveled to Balesin island for private time and scheduled to return Monday morning via private transport," he said in a statement.
Carlos said he was informed that due to "unforeseen circumstances", his private flight would only be available in the evening of Monday.
This prompted him to request an administrative flight for him to be able to return to Camp Crame for work on Monday.
"The flight directive was allowed and issued following PNP rules and regulations. I regret that the accident happened and never wish harm to my personnel or losses to the organization. Rest assured that a thorough investigation is being undertaken," he added. (with report from Priam Nepomuceno/PNA)