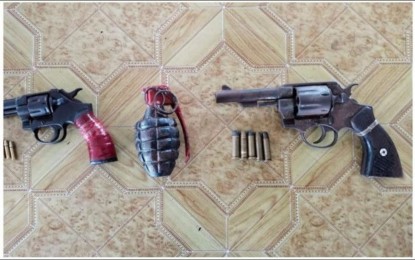 DUMAGUETE CITY – Some three suspected members of the Communist Party of the Philippines-New People's Army (CPP-NPA) surrendered to the police and turned over firearms on Feb. 21 following a "pulong-pulong" or dialogue in Barangay Nagbinlod, Sta. Catalina town in Negros Oriental.
The Negros Oriental Provincial Police Office (NOPPO) identified the surrenderers as alias Jigo, 38, a farmer, of Sitio Nahayag in Barangay Talalac; alias Ipir, 24, farmer and also of Nahayag; and alias Joce, 61, of Sitio Batang-batangan in Barangay Talalac, all in Sta. Catalina.
The three turned themselves in to the 705th Maneuver Company of the Regional Mobile Force Battalion-7 following a dialogue in Sitio Kanggabok in Barangay Nagbinlod late Monday afternoon.
Prior to the "pulong-pulong", police received an intelligence report that three members of the NPA's Yunit Militia would surrender to authorities.
They also turned over an M14 rifle without markings and serial number.
Meanwhile, two residents of Barangay Nagbinlod also turned over firearms and explosives to the police.
Rudy Banquel and Antolin Pajuelas, both farmers and believed to be supporters of the rebel group, handed over a .22-caliber pistol with five rounds of ammunition, a .38-caliber pistol with five rounds of live ammunition, and a hand grenade.
The CPP-NPA is listed as a terrorist organization by the United States, the European Union, the United Kingdom, Australia, Canada, New Zealand, and the Philippines.
The National Democratic Front has been formally designated as a terrorist organization by the Anti-Terrorism Council on June 23, 2021, citing it as "an integral and inseparable part" of the CPP-NPA created in April 1973. (PNA)