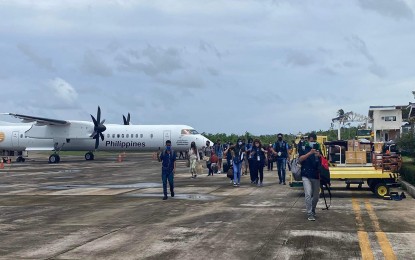 BUTUAN CITY – Philippine Airlines (PAL) has resumed its regular commercial flights from Manila to Siargao Island in Surigao del Norte on Tuesday.
Regular PAL flights were halted after Typhoon Odette devastated the island in December last year.
Among the ravaged town on the island during the typhoon was Del Carmen where the Sayak Airport is situated.
On Tuesday, a PAL commercial flight arrived at Sayak Airport at 9 a.m.
The airline is flying to Siargao three times a week every Tuesday, Thursday, and Sunday.
Del Carmen Mayor Proserfina Coro and Surigao del Norte Gov. Francisco Matugas welcomed the resumption of the PAL flights on the island.
In an interview over radio station RPN DXKS on Tuesday, Matugas thanked the PAL management for the reopening of its regular flights to the island.
"An executive order was previously issued by the provincial government relaxing the health protocols in the province for the fully vaccinated individuals who will visit Surigao del Norte," Matugas said. (PNA)