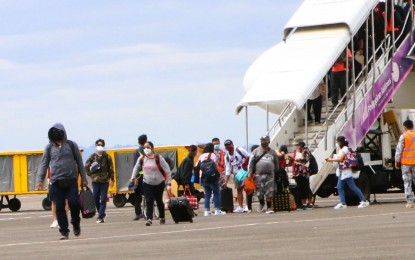 SUBIC BAY FREEPORT – The Philippine Air Lines (PAL) landed its last "Bayanihan" repatriation flight on Tuesday, ending its nine months of flying home overseas Filipino workers (OFWs) and other returning Filipinos via this free port.
Subic Bay Metropolitan Authority (SBMA) chairman and administrator Wilma T. Eisma said the government's repatriation flights to Subic Bay were stopped after the Ninoy Aquino International Airport (NAIA) was allowed to increase the capacity of inbound international passengers as coronavirus disease (Covid-19) restrictions were eased.
"So, there's no more need for PAL to reroute OFW flights via Subic. It is a bittersweet moment for us because PAL's repatriation flights here somewhat revived our airport operations and brought much-needed income to Subic hotels during the Covid-19 pandemic," Eisma said in a statement.
"Still, the lifting of passenger capacity limit at the NAIA is a sign that we are going back to normal and this is most welcome," she added.
The last flight into Subic carried 77 passengers from Koror City in Palau, an archipelago of islands southeast of the Philippines with a substantial population of Filipino contract workers.
At the height of the OFW repatriation program, Subic was connected to areas including Riyadh and Dammam in Saudi Arabia; Bahrain; Dubai and Abu Dhabi in the UAE; Doha in Qatar; Macau; Palau; and Kuala Lumpur in Malaysia.
Zharrex Santos, manager of the Subic Bay International Airport (SBIA), said PAL made a total of 82 repatriation flights, bringing home a total of 20,522 passengers, all of whom were subjected to mandatory quarantine in Subic hotels.
As of February 6, the SBIA has generated more than PHP4.2 million in direct income from the PAL repatriation flights, Santos said.
Meanwhile, PAL consultant Charlie Yu thanked the SBMA, Bureau of Immigration, Bureau of Customs, Philippine National Police, Philippine Coast Guard, Overseas Workers Welfare Association, and the Bureau of Quarantine for efficiently handling the repatriation program via the Subic airport. (PNA)