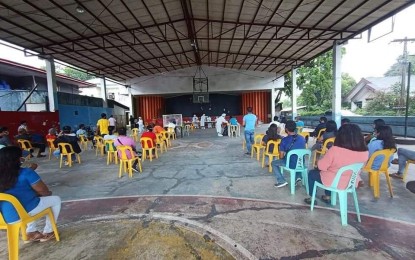 SAN JOSE DE BUENAVISTA, Antique – Organizers of the BBM (Bongbong Marcos)-Sara (Duterte) campaign rally in Antique has decided to move the event next month from its Feb. 24 original schedule to give way to a program in celebration of the 36th anniversary of the People Power Revolution.
Hamtic Mayor Julius Pacificador, one of the organizers, said in an interview Wednesday they decided to temporarily cancel the campaign rally upon knowing that their proposed venue at the Evelio B. Javier (EBJ) Freedom Park in San Jose de Buenavista will be holding a program in celebration of the historical event.
"We are giving way to the 36th People Power Anniversary program because of its importance," he said.
Pacificador added that they decided to reschedule the rally knowing that many Antiqueños would also like to join in the anniversary program and at the same time the BBM-Sara rally.
He also said rally will already be held in his hometown of Hamtic, which is a central town of the province, instead of the previously EBJ Freedom Park.
"The caravan from the northern towns and from the southern towns of the province could easily converge in the Municipality of Hamtic," Pacificador said.
Around 5,000 supporters are expected to participate, hence they are now preparing for the security measures.
"We are expecting a mob of supporters to join in the rally so we have to put in place the security plan with the police," Pacificador said.
Pacificador is the nephew of former Antique Rep. Arturo Pacificador, a close ally of the late Pres. Ferdinand Marcos. (PNA)