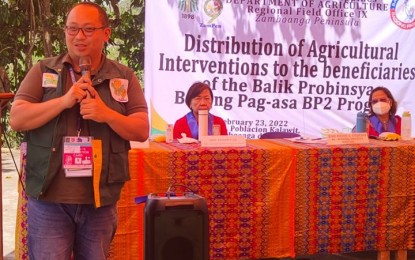 ZAMBOANGA CITY – The Department of Agriculture (DA), through its Balik Probinsya, Bagong Pag-Asa (BP2) program, distributed on Wednesday some PHP15 million worth of livelihood intervention in the province of Zamboanga del Norte.
The BP2 is a socio-economic program of the Duterte administration to address Metro Manila's congested areas by encouraging people, especially informal settlers, to return to their home provinces.
DA–Zamboanga Peninsula (Region 9) Executive Director Ran Donn Cedeño said Wednesday that the distribution was held at the Mindanao Livestock Production Center (MLPC) in Kalawit, Zamboanga del Norte.
Cedeño said the beneficiaries of the BP2 program are from Sitio Munob, Barangay Daniel Maing, Kalawit.
"This project proves that there is money in the province," Cedeño said in a statement.
He said the program recipients received livestock like cattle, goat, and native chicken, animal feeds, corn seeds, upland rice seeds, vegetable seeds, and banana plants with fertilizer, including some gardening tools.
He said the recipients will be trained to capacitate them on production and management technologies to be able to sustain the project provided to them.
"Even amid this pandemic, DA will deliver to be able to contribute to the whole-of-nation approach in achieving Masaganang Ani, Mataas na Kita (Abundant Harvest, High Income) with the support of our Secretary William Dar," Cedeño said.
He said the DA-BP2 agri-assistance also includes trading posts, nursery, open-source irrigation system, farm machinery such as hand tractor and corn sheller, upon the development of the community as a food production area. (PNA)