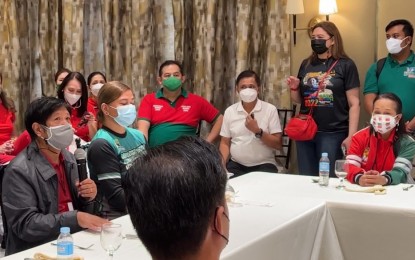 BACOLOD CITY – Leaders of the sugar industry based in Negros Occidental, the country's top sugar producing province, presented various issues and concerns to presidential aspirant Ferdinand "Bongbong" Marcos Jr. and his running mate Davao City Mayor Sara Duterte as part of their campaign sortie in this city on Wednesday.
Hours before their grand rally held at the Reclamation Area, the UniTeam duo, together with former president Gloria Macapagal-Arroyo, met with sugar producers led by United Sugar Producers Federation (UNIFED) president Manuel Lamata and Asociacion de Agricultores de La Carlota y Pontevedra Inc. (AALCPI) president Roberto Cuenca at the Stonehill Suites here.

Currently, the two groups are leading the protest of what they call the ill-timed Sugar Regulatory Administration (SRA) Sugar Order No. 3, allowing the importation of 200,000 metric tons of refined sugar for industrial users starting March 1, which is still the peak of milling season.
"What I'm asking is, during your time can we transfer the sugar industry to Office of the President (OP)," Cuenca told Marcos during the dialogue, prompting the presidential candidate to ask, "Why would that be to your advantage?"
Cuenca said during the time of the late President Ferdinand Marcos Sr., the sugar industry was under the OP, and it was when they were exporting instead of importing sugar.
"With this plan, maybe it needs a little more refinement, but if we are under the OP, then we go directly (to the President) we don't have to go through the Department of Agriculture," he added.
Cuenca noted that of the more than 10,000 members of AALCPI, some 90 percent are farmers who are agrarian reform beneficiaries.
"We need to protect them. Now, the beneficiaries are experiencing the high price of inputs," he said.
Marcos pointed out the high cost of inputs seems to be a general concern in the whole agriculture sector.
"We all know urea (fertilizer) is a petroleum product. When the prices of oil go up, urea goes up. But when the price of oil comes down, it does not come down anymore," Marcos added.
He asked Arroyo if the government could be allowed to buy urea in bulk to "make it part of some kind of an assistance" to sugarcane farmers.
"We must allow everybody to import. The government got to be one of the importers, no monopoly," the Arroyo said.
Marcos also discussed the need for research and development in the sugar industry to find new varieties resistant to pests and changes in weather.
He also asked the sugar producers to present the legislations needed by the industry, with the presence of senatorial candidates, including reelectionist Senator Sherwin Gatchalian, former Defense secretary Gilbert Teodoro Jr., former senators Gregorio Honasan and Jinggoy Estrada, former Quezon City mayor Herbert Bautista, Sagip party-list Rep. Rodante Marcoleta, and lawyer Larry Gadon. (PNA)