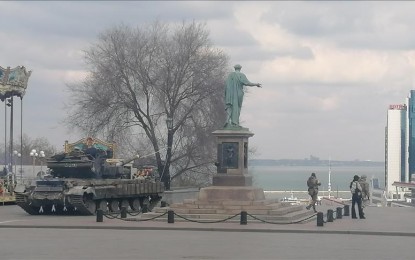 ISTANBUL – Ukraine's President Volodymyr Zelenskyy signed a decree early Friday on a general mobilization of the population as Russian attacks continued.
The general mobilization was announced "in connection with the military aggression of the Russian Federation against Ukraine and in order to ensure the defense of the state, maintaining combat and mobilization readiness of the Armed Forces of Ukraine and other military formations, on the basis of the proposal of the National Security and Defense Council of Ukraine," Ukraine's Presidency said in a statement.
The statement detailed the mobilization in the "territory of Vinnytsia, Volyn, Dnipropetrovsk, Donetsk, Zhytomyr, Zakarpattia, Zaporizhia, Ivano-Frankivsk, Kyiv, Kirovohrad, Luhansk, Lviv, Mykolaiv, Odesa, Poltava, Rivne, Sumy, Ternopil, Kharkiv, Kherson, Khmelnytsky, Cherkasy, Chernivtsi, (and) Chernihiv regions, (and) the city of Kyiv."
The mobilization will be carried out within 90 days as of Friday, the statement added.
"Conscription of conscripts, reservists and involvement of vehicles to meet the needs of the Armed Forces of Ukraine, the National Guard of Ukraine, the Security Service of Ukraine, the State Border Guard Service of Ukraine, the State Special Transport Service, the State Service for Special Communications and Information Protection of Ukraine, and other military formations of Ukraine shall be carried out to the extent determined in accordance with mobilization plans," it added.
According to the statement, the Ukrainian Cabinet will "provide funding and take within its powers other measures related to the announcement and conduct of general mobilization."
"The Security Service of Ukraine (is) to take counterintelligence measures during the general mobilization," it added.
Late Thursday, Ukraine's health minister said at least 57 Ukrainian military personnel and civilians had been killed due to Russia's military intervention in the country.
Donbas crisis and Russia's military intervention
The February 2014 "Maidan revolution" in Ukraine led to former President Viktor Yanukovych fleeing the country and a pro-Western government coming to power.
That was followed by Russia illegally annexing the Crimea region and separatists declaring independence in the Donetsk and Luhansk regions of Donbas in eastern Ukraine, both of which have large ethnic Russian populations.
As clashes erupted between Russian-backed separatist forces and the Ukrainian army, the 2014 and 2015 Minsk Agreements were signed in Moscow after the intervention of Western powers.
The conflict, however, simmered for years with persistent cease-fire violations.
As of February 2022, some 14,000 people have been killed in the conflict in eastern Ukraine.
Tensions started escalating late last year when Ukraine, the US, and its allies accused Russia of amassing tens of thousands of troops on the border with Ukraine.
They claimed that Russia was preparing to invade its western neighbor, allegations that were consistently rejected by Moscow.
Defying threats of sanctions by the West, Moscow officially recognized Donetsk and Luhansk as independent states earlier this week, followed by the start of a military operation in Ukraine on Thursday.
Russian President Vladimir Putin said the operation aims to protect people "subjected to genocide" by Kyiv and to "demilitarize and de-Nazify" Ukraine, while calling on the Ukrainian army to lay down its arms. (Anadolu)