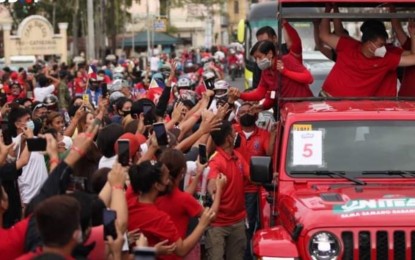 BACOLOD CITY – A former governor of Negros Occidental apologized to UniTeam presidential aspirant Ferdinand "Bongbong" Marcos Jr., who was heckled by a group of Vice President Leni Robredo's supporters during a caravan passing by Talisay City on Wednesday afternoon.
In a Facebook post on Friday, Rafael Coscolluela, convenor of Negros for Leni-Kiko, said they "do not encourage such behavior, nor will we tolerate the same from among our ranks".
"I apologize to Mr. Marcos and his companions for the heckling, and I urge everyone to refrain from such actions for the duration of the campaign," he added.
A video circulating on social media shows Robredo-Pangilinan campaign flyers being thrown at Marcos while he was about to wave at Talisay City residents by the roadside.
The leaflets apparently came from a group chanting anti-Marcos slogans and carrying Leni-Kiko banners as shown in the video.
After the incident, a Facebook user named "Rachel Antoinette" posted that their group "were exercising their rights" when Marcos' bodyguards supposedly pushed them to the side.
She described it as an "act of violence" that "caused the fliers held by one of the dissenters to fly towards BBM hitting his face."
"I say he deserves it," she added.
Coscolluela said he became aware of the incident on Thursday afternoon, and while he wanted to fully investigate the circumstances, his hectic schedule prevented him from meeting all the individuals who were either involved or were witnesses.
He added the heckling was "not premeditated" and they certainly would never have allowed it if their blessings had been sought.
"I wish to state that we in Robredo People's Council-Negros Occidental have consistently exhorted our volunteers to observe proper conduct during the campaign," he said.
Coscolluela, however, said, "partisan emotions can run high and result in confrontational actions – albeit done while exercising one's freedom of speech – that are hateful, hurtful or uncalled for".
"It is in this light that I express my deep remorse over what happened, even as I recognize the sentiments that fueled such emotions," he added.
In a statement on Thursday night, Talisay City Mayor Neil Lizares III said the city government is investigating the incident.
He noted that while they made sure the caravan proceeded smoothly, the acts of the people who attended the caravan were beyond their control.
"The City of Talisay will not tolerate this behavior and assures you all that necessary actions will be made after proper investigation. Our fellow Negrenses know that Talisaynons are generally peace-loving people," he added.
Lizares assures both political candidates and voters that the city "puts due respect to the growth of free marketplace of ideas".
"We will never tire of reminding our beloved Talisaynons to always practice respect and compassion. Again, we remind all Talisaynons to exercise prudence in the exercise of our rights," the mayor said.
The Negros for BBM reposted Lizares' statement on its Facebook page, saying they "appreciate the action that was taken, but what we wish to hear is a public apology from the person/s involved".
"These are just mere words unless we see how the issue has been publicly addressed," the group added. (PNA)