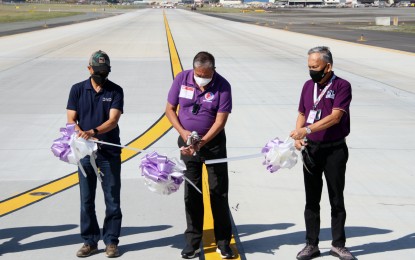 MANILA – The Manila International Airport Authority (MIAA) reached another milestone Friday with the inauguration of the newly repaired and upgraded Taxiway Charlie at the Ninoy Aquino International Airport (NAIA) in Pasay City.
The upgrading of airside facilities will ensure the efficient use of the runway and improve safety as aircrafts can swiftly leave the runway toward the tarmac, leading to the terminals, according to a news release.
As it will make aircraft movement from the runway to the tarmac faster, the airport can now accommodate more arrivals and departures daily in the country's primary gateway in the cities of Pasay and Parañaque.
"The newly upgraded taxiway will enable large aircraft types, like the Boeing 777, a smoother and faster maneuvering en route to the parking bay or the main runway. For this, NAIA now joins the ranks of its neighbor airports with concrete taxiway pavements," the Department of Transportation (DOTr) said in a statement.
Before the Covid-19 pandemic, aircraft traffic on-ground affected landing and takeoff time as aircrafts line up to before going airborne and landing.
The DOTr, in coordination with the Manila International Airport Authority (MIAA), worked for the completion of the project which cost PHP1.1 billion, including civil and electrical works.
Upon confirmation of the manifestation of pavement instability and distress from several conducted site inspections and repair works from Taxiway Charlie 1 to 5 and Hotel 1, it was decided to repair and upgrade the taxiway for safer aircraft operations.
The project design parameters were based on the Aerodrome Design Manual of the International Civil Aviation Organization.
The thickness for pavement structures of the taxiways was designed based on the requirements for characteristics of large new aircraft and will enable quicker exit and quicker release of flights taking off.
"The repair and upgrade of the NAIA Taxiways were carried out simultaneously and was undertaken with NAIA remaining operational and causing no interruption or danger to airport operations," MIAA General Manager Ed Monreal said.
These developments are poised to propel progress in the economy, tourism, and commerce, thereby resulting to opening of more opportunities and benefits for Filipinos, added the DOTr.

A part of the Duterte administration's "Build, Build, Build" program, the runway inauguration was attended by DOTr Secretary Arthur Tugade, Defense Secretary Delfin Lorenzana, Civil Aviation Authority of the Philippines Director General Jim Sydiongco, Tourism Secretary Bernadette Romulo-Puyat, Office for Transportation Security Administrator Raul Del Rosario, and Civil Aeronautics Board Executive Director Carmelo Arcilla. (PR)