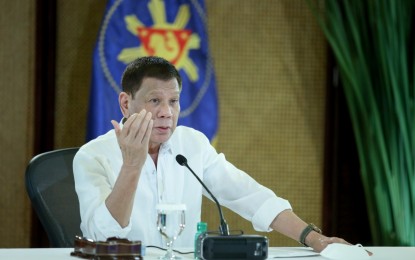 MANILA – President Rodrigo Duterte vowed not to allow any election-related violence to occur during the remaining months of his administration, particularly during the national and local polls in May.
"I never will condone election-related violence. Hindi talaga ako papayag (I will never allow that) – terrorism or intimidation. This is for those who believe in me and those who do not," Duterte said in an interview during a special episode of the Cabinet Report with Presidential Communications Operations Office (PCOO) Secretary Martin Andanar, aired Friday night.
He also warned against violent electioneering.
"Do not do it kasi I will see to it na itong eleksyon na ito ay malinis at walang dayaan, walang patayan sa panahon ko. Maghanap kayo ng ibang presidente. Huwag ninyong gawin sa akin kasi pupuntahan talaga kita (Do not do it because I will see to it that this election is clean and without fraud. No killings during my time. Don't do it to me because I will come for you)," he added.
Duterte said he has tapped the military and the police to ensure orderly, clean, and peaceful elections nationwide.
"I continue to be the commander in chief and we have agreed that this election under me will be walang katakutan (free from fear)," he said.
Politicians, he added, should never use violence to force the people to elect them.
"Look, if the people do not like you, do not force yourself into their lives. You create an artificial scenery there (that the) environment will not be conducive for fair and honest election. Maghanap ka ng ibang president, huwag sa panahon ko (Do it with another president, not in my time)," he said.
He promised to protect the sanctity of the people's votes.
"I have a sacred oath, and that sacred oath is not only for friends or enemies but for all Filipinos. Kaya pagdating sa election, tingin ko tabla lahat (that's why when it comes to the election, everything should be even)," he said. (PNA)