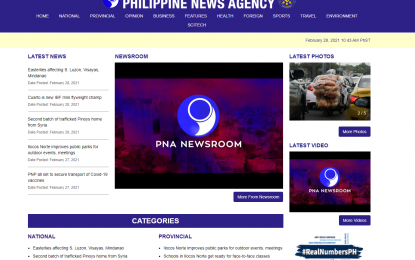 MANILA – The Philippine News Agency (PNA) has been providing daily news services to both local and foreign readers on the policies, activities, and programs of the government and the presidency since March 1, 1973. It's no secret that the agency's success is heavily dependent on the writers and editors behind every news story.
As the PNA marks its 49th year, it is only fitting to revisit some lessons learned by former staff members who helped the government's official web-based newswire service get to where it is today and made remarkable careers themselves.
Not all editors are ruthless
"We were considered terrors by reporters. If we found sloppy copies, we would tear them apart and throw them in the wastebasket. Pagagalitan namin (We would scold them), 'Did you go to college?'" radio broadcaster and newspaper columnist Ramon "Mon" Tulfo said in an interview.
Tulfo, who was one of PNA's first deskmen from 1973 to 1975, worked alongside colleagues with an eagle eye to catch mistakes before they were published.
He went on to work for radio and TV networks and is most known for his long-running public service program, Isumbong Mo kay Tulfo! on DZRJ Radyo Bandido.
He also served a six-month stint as special envoy for public diplomacy to China in 2018.
While Tulfo was a ruthless editor, others like Severino "Viring" Samonte were much more compassionate. He had an infinite amount of patience to rewrite copies.
"I would always try to salvage stories. Hahanapan ko ng puwedeng anggulo na mai-rewrite ko kasi naawa ako sa writer. Pinaghirapan 'yun e (I would try to look for an angle I could rewrite because I pity the writer. They worked hard to write it)," said Samonte, also one of PNA's first deskmen.
Because of his sympathetic nature, he said many reporters would send their stories to him for editing to avoid the more brutal editors.
Samonte worked for PNA for two years but transferred jobs after he was offered a job to write for a specialized publication subsidized by the United Nations (UN). He also became a contributor to the Manila Bulletin for a decade.
Former reporter Lady Marie "Sweetie" Ventura, who joined PNA in 1998, remembered the time she was tasked to write a historical feature article under Samonte's guidance. She had to conduct research at a time when the Internet was not yet widely accessible to the public.
"I remember a time I had to read three to four history books to write one feature article. It was such an honor to have an editor like Mr. Samonte to guide me," Ventura said.
Though journalism may be considered one of the most stressful careers, she said having helpful colleagues make the job a bit easier.
Ventura now works as a reservation agent in El Cortez Hotel and Casino, one of the longest-running hotels in Las Vegas.
Opportunity to serve
ABS-CBN reporter Sherrie Ann Torres, who worked for PNA before deciding to move to the country's largest media company, knows of the "limitations" in working for the government's official web-based newswire service but learned to take an optimistic view of work.
"Being a PNA reporter doesn't mean that you are less of a journalist. I always believe that when you do your best regardless of who you are, it makes a lot of difference. Writing for government or covering a story for government is always good advocacy to inform the people, to educate the public," Torres said.
"Regardless of the position you are holding right now, whether you are the front-line reporters, desk people, drivers, timekeepers, encoders, or photographers, I'd like to ask you to always be proud of yourselves because you are serving the nation."
Aside from covering the political beat, Torres also conducts journalism workshops in various government offices, corporations, public and private schools, universities, and colleges.
Former PNA editor Maricor Zapata also acknowledged that working for government-run media means showing projects and programs in a favorable light.
However, she said that reporters and editors must always be truthful and state the facts.
"Spreading positivity is always a good thing. But such positive news must always be factual and true, devoid of opinion, so it will keep its objectivity, integrity, and credibility," she said.
Zapata talked fondly about her experience editing stories from the Cordillera region, describing it as "always a pleasure".
She believes that featuring human interest stories about indigenous peoples' culture and the innate kindness of Filipinos in times of calamities serves as a breather from the usual hard news.
She currently works as a financial news writer for S&P Global Market Intelligence.
There's always room for improvement
Former News and Information Bureau (NIB) Director III and concurrent PNA General Manager Vittorio "Vot" Vitug, who worked for the agency from 2001 to 2010, said greenhorn reporters must remember that being able to look at the job as a learning experience is helpful.
"There's always room for improvement in the field of journalism. There are lessons to be learned on a daily basis, driven by our never-ending quest to hone our craft to deliver our stories the best we can," Vitug said.
He said the PNA has had highs and lows it had to learn from.
However, he said, the agency has managed to exhibit resilience through its 49 years of existence.
"It was a crucial time of transition in politics, as well as in technology when I started working for PNA. Against the backdrop of a successful Edsa 2, there was a shift from a teletype news delivery service to full computerization. It was the dawn of the large social media space. And PNA, being a news wire service agency, was in the middle of it all. And we're all proud that through collective effort then and now, PNA did not only survive but it actually flourished in this age of the Internet," he added.
Vitug was awarded the Presidential Citation for his dedicated and exemplary service during the Philippines' hosting of the historic Special Non-Aligned Movement Ministerial Meeting on Interfaith Dialogue and Cooperation for Peace and Development held at the Philippine International Convention Center on March 16-18, 2010.
He now edits for Business Mirror.
Despite a few hiccups, Samonte is confident that the PNA is making a lot of progress, especially after it underwent major operational changes in 2017 with improvements on its website, editorial operations, and facilities.
"Next year will be its golden (50th) anniversary. I hope it keeps soaring high at makaabot ng (and reach) 500 years," he said.
Torres also believes that learning to have resilience in the face of adversity is part of growth.
"There are challenges that the PNA had to face but let's take that as part of the so-called 'birth pains' because you are in for a good start. The best is yet to come," she said. (PNA)