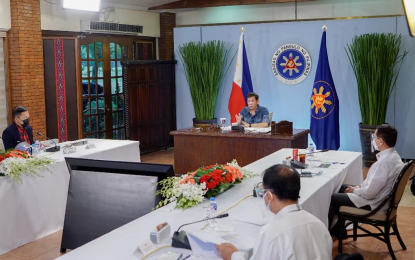 MANILA – President Rodrigo Roa Duterte on Monday commended anew his Cabinet members for the job well done, saying he'd be happy to pass them on to the next administration for the benefit of the Filipino people.
In his prerecorded "Talk to the People", Duterte said he would have been done nothing as the country's President without the help of his Cabinet members.
"Limitado lang tayo ng six years but I'd be happy to hand you over to kung sino man ang susunod (We are just limited for six years but I'd be happy to hand you over to whoever leads in the next administration)," Duterte said.
Duterte said he got the "best minds" in his Cabinet, and it would be better if their good works can be continued even in the next government.
The Chief Executive thanked Department of Transportation (DoTr) Secretary Arthur Tugade after the latter reported the Duterte administration's long list of accomplishments in the transportation sector.
"I was actually looking at your slides and the way you've—you have not changed, your passion for achievement [always] been there. I'm old actually, maligaya ako para sa bayan na kinuha kita. Salamat (I'm happy for the country that I brought you in. Thank you) for your tireless toil and I am ready to pass you on to the next administration as a gift," Duterte told Tugade after his presentation.
Duterte is likewise impressed with National Task Force (NTF) Against Covid-19 chief implementer and vaccine czar Secretary Carlito Galvez Jr. for relentlessly working on the country's vaccination programs and other pandemic responses.
"You know, Secretary Galvez, so far, so good ka. From Day 1, talagang (really) any superior would be very happy to have you," he told Galvez.
Duterte said he will suggest retaining his "best" Cabinet members for the sake of the nation.
In response, Galvez complimented Duterte for his kindness and "straight leadership."
"Mr. President, ako, emotional ako. Nag serbisyo lang ako dahil napakabait mo na Presidente. Kami pong mga gabinete sumusunod sa inyo dahil yung straight leadership niyo po at kabaitan hindi mapapantayan (Mr. President, I am emotional. I just served because you are so kind President. We, your cabinet members, are just following your straight leadership and your kindness is immeasurable)," Galvez told Duterte.
Duterte replied: "I could have not chosen better men actually."
Duterte also thanked Trade and Industry Secretary Ramon Lopez for his untiring efforts to revive the economy hit hard by the Covid-19 pandemic.
"I can only say that nothing spectacular short of a very fulfilling — para sa akin (for me) we're doing fine and recovering from the pandemic. Again also, on behalf of the Filipino people, I'd like to thank you," he told Lopez.
Duterte also commended Education Secretary Leonor Briones for her "splendid" job and unwavering dedication in pushing for a better learning system for young Filipinos.
"Hindi talaga ako nagkamali sa pagkuha (I was not wrong of choosing you). I knew that you'd be a great help. We are nearing the end of our trip. It's good for the listening public to [know] what are the sentiments that we poured in our work and what are the paradigms we follow being a Filipino and how to educate the Filipino people," Duterte said.
He said the country might have a "little of everything" when it comes to education, but he wishes that all the things that Briones brought for the education sector will not be forgotten.
"They should not forget that those the culled wisdom for them are a lifetime in this planet. It could not go to waste and I hope that they would see the light of innovations that you introduced and they would adopt it. And they will not discard it just because it is the work of the old administration," Duterte said.
Duterte hopes the next administration "would put in mind that there's nothing personal here, except that we used our time to be here, to work and we have no other agenda."
He said his administration only wants the country to be put "in a better place than yesterday".
Duterte, whose six-year term will end in June, earlier said he may not endorse any presidential candidate to "stay neutral" in the May 9 elections.
"Kung magtanong kayo kung may e-endorse ako (If you ask if I would endorse anyone) – I may or I may not. But preferably, I'd like to stay neutral. Ibig sabihin wala akong susuportahan na kandidato (This means I will not support any candidate). Unless, again, having said that I'll say it again, it will be a compelling reason for me to go out and tell the people what it is. I'd like to bide my time. I'm not in a hurry," Duterte said in an interview with Presidential Communications Operations Office Secretary Martin Andanar last Friday night.
He said if the people's interest is at stake, then maybe he would choose a presidential candidate to support in this coming election.
Some candidates, he added, have sought his support and even set up a meeting, but he said he "respectfully just decline to say, anybody."
"Until now, I have yet to decide whether or not to support a candidate. At this time, nobody's in my mind actually," Duterte said
His daughter, Davao City Mayor Sara Duterte, is running for vice president and was adopted and endorsed by Partido Federal ng Pilipinas (PFP), the political party of presidential aspirant Ferdinand "Bongbong" Marcos Jr. (PNA)