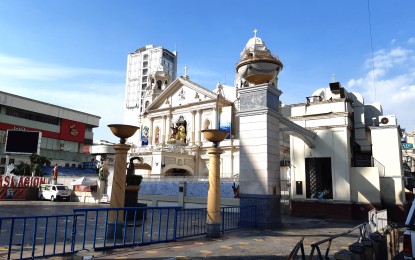 MANILA – The Minor Basilica of the Black Nazarene popularly known as Quiapo Church will no longer require the faithful to present their vaccination cards before they will be allowed inside the church on March 2, Ash Wednesday.
According to Parochial Vicar Fr. Douglas Badong, mass goers are, however, still required to wear face masks and to strictly follow health protocols.
"We're no longer looking for a vaccination card. Still, no facemask, no entry and observe social distancing," he said in a text message on Tuesday.
The Catholic priest added that the traditional marking of crosses on the foreheads has been allowed for this year's celebration, which will signal the start of the Lenten season.
He also reminded the public that those who will not follow protocols will be not be allowed inside the basilica.
Badong said only 70 percent seating capacity is allowed.
On the other hand, the Archdiocese of Manila reminded the clergy and the religious men and women to strictly implement health protocols during the observation of Ash Wednesday, as they expect more people to attend the celebration especially since the alert level in Metro Manila has been relaxed.
"We anticipate a large number of people who will come to church for the imposition of ashes. Let us ensure that there are enough ministers and ashes as well as the compliance to health protocols," said the Manila archdiocese in a circular signed by Vice-Chancellor Fr. Carmelo Arada, Jr.
He urged the faithful to share their blessings by supporting the FAST2FEED or Hapag-Asa, a project where they feed the less fortunate.
"The fruit of our Lenten penance can be offered during the Evening Mass of the Lord's Supper as our 'gifts for the poor'. This is an explanatory rite of the Mass that expresses our responsibility towards the poor of the community, We can also contribute to FAST2FEED or Hapag-Asa to feed the hungry and malnourished children," the Catholic priest said.
Arada also reminded that the marking of crosses on foreheads has again been allowed.
"We will revert to the imposition of ashes on the forehead of the faithful. The sprinkling of ashes on the crown will remain an option," Arada added.
Roman Catholics around the world will observe Ash Wednesday, to mark the beginning of the 40-day Lent, which reminds the faithful of the sacrifices, the death, and resurrection of Jesus Christ. (PNA)