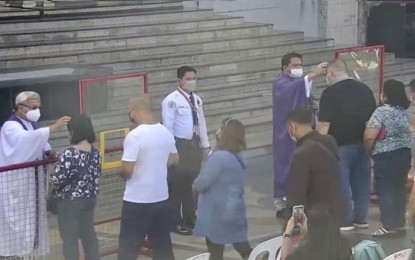 CEBU CITY – As the Catholic Church starts the Lenten season on March 2, Ash Wednesday, Cebu Archbishop Jose Palma urged Cebuanos to intensify prayers for the country and the world.
In a video message, Palma said the difficult challenges resulting from the pandemic, the ravages of Typhoon Odette, and the many uncertainties both in the country and abroad should be "our opportunity to return to God, to acknowledge His Lordship and ask for His mercy and compassion".
Palma's message came in the light of the current crisis brought by the conflict between Russia and Ukraine as well as the upcoming local and national elections on May 9.
"My dear brothers and sisters, as we journey through this 40-days of Lent, we intensify our prayer, and we pray not only for ourselves but also for one another, for our country, and for the world," Palma said. "We offer our sacrifices, our acts of penance and fasting, so that by not having much we can give others something for their needs and return to God, acknowledging our sinfulness and ask for His mercy and forgiveness".
The prelate said the celebration of the 500th year of the arrival of Christianity on the shores of Cebu, is an opportunity to thank the Lord for making the island the cradle of faith.
On March 16, 1521, Portuguese navigator Ferdinand Magellan reached the archipelago while attempting to sail around the world for the Spanish crown.
The Philippine government and the Roman Catholic Church celebrated last year the quincentennial of both the circumnavigation and the arrival of Christian faith, evidenced by the holy image of the Señor Sto. Niño, the gift of Magellan to Juana, wife of Cebu's ruler, Rajah Humabon, after the baptismal rite for the natives here 500 years ago.
"We have been blessed and we are thankful for the gift of Señor Sto. Niño, our Lord Jesus Christ who has guided us through the ups and downs of our journey as a people. Now in looking back to the journey that was, we also look forward as we embark on the journey that will be, a journey of reflection, conversion, and spiritual renewal," he said.
Augustinian friar Fr. Nestor Bandalan said in his homily that the season of Lent is a period of preparation that starts from Ash Wednesday and ends on Holy Thursday when the Catholic faithful enter the Pascal Triduum, commemorating the Last Supper of the Lord and the 12 apostles and the crucifixion of Jesus.
He said Pascal Triduum precedes the joyful Easter season when the church celebrates the glorious resurrection of the Lord.
"What makes this period significant? We say that we always want change in our society. The question is, do we want that change to start within our own heart," Bandalan said. (PNA)