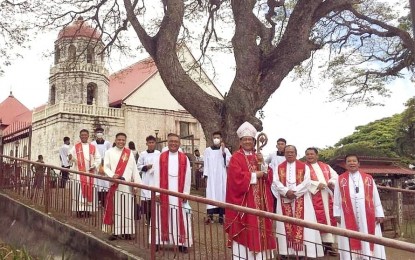 DUMAGUETE CITY – Bishop Julito Cortes of the Diocese of Dumaguete on Wednesday called on the faithful to begin their Lenten journey with prayers and fasting for peaceful elections in the country and an end to the Russia-Ukraine war.
Cortes told the Philippine News Agency that since the start of Russia's invasion of Ukraine, he has asked the faithful to offer prayers for an end to the aggression, in response to Pope Francis' call to dedicate Ash Wednesday for this particular intention.
"I have been asking the faithful in my masses in the different parishes in Siquijor that we all pray for the successful peace talks between Russia and Ukraine, and for the end of the war itself," Cortes said.
He is currently in nearby Siquijor province for his regular pastoral visits to the different parishes covered by the diocese.
The prelate further said the Russian invasion of Ukraine, which started last February 24, should not be "allowed to escalate and lead to a possible world war, God forbid".
"Our hearts go to the families of those who have died and the already more than half a million Ukrainians who have fled their homes. God bless and help them," Cortes said.
Meanwhile, in his Ash Wednesday message, the 65-year-old prelate reminded the people that Lent is a time for repentance and remembrance of Christ's passion, death, and Resurrection, saying this is "the most opportune period to pray, fast, and do acts of charity".
He noted the "tragic effects" of the coronavirus disease 2019 (Covid-19) pandemic and the destruction left by Typhoon Odette, the "threatening developments" the country is facing such as "unneeded reclamations and potentially destructive quarrying" and the upcoming elections that all need prayers.
"As we come closer to (the) May 2022 elections, we are tremendously concerned with suspected election-related killings and the specter of massive vote-buying. We pray, then, for much-needed conversion in all of us – as individuals and as a community," he said.
The prelate urged the people to "be enlightened and emboldened" in electing those who "fight for the common good and not for the greedy interests of some, and who have always been on the side of the poor" not only during election time but throughout the years.
He also called for fasting not only on food but also on entertainment, because by doing so, whatever savings are gained can be donated as an act of charity to help Typhoon Odette victims recover.
Cortes quoted Pope Francis' Lenten message that read: "Let us not grow tired of doing good in active charity towards our neighbors. Lent is a favorable time to seek out and not to avoid those in need; to reach out and not to ignore those who need a sympathetic ear and a good word; to visit and not to abandon those who are lonely". (PNA)