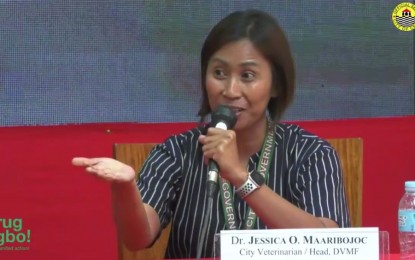 CEBU CITY – The city veterinarian here has pushed for the reactivation of the price coordinating council to prevent the unregulated increase in the prices of basic commodities, including meat and its derivative products.
Dr. Jessica Maaribojoc, head of the Department of Veterinary Medicine and Fisheries (DVMF), on Wednesday said once the council is reactivated, it can set a price range for certain prime commodities that the vendors will follow.
"To date, what we are doing is to monitor the ceiling. So I, together with the Market Authority, proposed the (re)activation of the price coordinating council that can set the price range as suggested retail price for our market vendors," Maaribojoc said in a talk show hosted by the Cebu City public information office.
A local price coordinating council is composed of representatives from the Department of Trade and Industry (DTI), Department of Agriculture (DA), and other government agencies. The council is headed by the mayor.
The veterinary office has observed "consistency" in the price range between PHP250 to PHP320 on the price of pork in both the wet markets and the supermarkets.
Maaribojoc said the price of dressed chicken ranged from PHP170 to PHP195 as poultry growers adjusted their prices in the first week of January.
She said vendors caught overpricing could not be sanctioned in the absence of a council that controls the price range.
"Once we activate back the council or committee, we can pass a resolution pertaining to the sanctions if a vendor violates the suggested retail price," she added.
Maaribojoc said she will calendar her move to reactivate the council at their next Market Authority committee meeting.
In 2019, the Department of Agriculture advised the creation of a local price coordinating council to monitor the prices of commodities, especially rice.
Although active in 2016, the council became moribund in the recent administration.
Meanwhile, the DVMF will also push for the opening of more slaughterhouses in the south district in the city to prevent sale of hot meat or meat from animals slaughtered in butcher houses not accredited with the National Meat Inspection Service (NMIS) and the city government.
She said DVMF personnel in the field would often intercept hot meat or undocumented slaughtered animals being transported in an unregulated transport vehicle to different places here. (PNA)