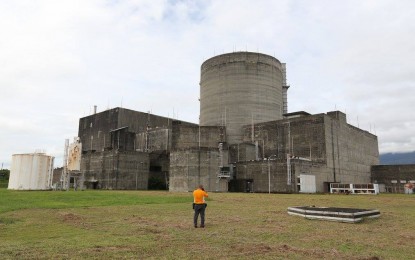 MANILA – President Rodrigo Duterte has signed Executive Order (EO) 164 that now includes the potential of nuclear power in the country's energy mix.
Released on Thursday, EO 164 was signed by the Chief Executive last February 28.
"This policy is the start of the national nuclear power program," said Department of Energy (DOE) Undersecretary Gerardo Erguiza Jr. in a press conference.
Under the new policy, it stated that the country "shall ensure the peaceful use of nuclear technology anchored on critical tenets of public safety, national security, energy self-sufficiency, and environmental sustainability".
Duterte issued the policy following the recommendation of the Nuclear Energy Program Inter-Agency Committee (NEP-IAC), which conducted a pre-feasibility study and public consultation on the matter.
Through EO 164, the Chief Executive has recognized that nuclear power can be a reliable, cost-competitive, and environment-friendly source of energy based on the experience of highly developed countries.
"For the country to achieve its sustained growth targets, it must ensure that it has a reliable, secure, sustainable, quality and affordable electricity supply, including sufficient reserve to guarantee that there will be no disruptions in the power supply," the policy read.
It added the use of nuclear energy will address the increasing demand for clean energy, rising by 4.4 percent annually, or an additional capacity of 68 gigawatts by 2040.
The EO still included the Bataan Nuclear Power Plant (BNPP) in the national nuclear program, but other nuclear power installations will be pursued.
The BNPP was the only nuclear power plant in the region during the 1980s, as the Philippines was one of the first Southeast Asian countries to embark on a nuclear energy program.
However, the project was mothballed because of corruption allegations and safety concerns on the use of nuclear energy.
A study conducted by Russia State Atomic Energy Corporation (ROSATOM) in 2017 said the rehabilitation of BNPP will require around USD3 billion to USD4 billion.
The public is also becoming more open to the potential of nuclear energy.
"(A) Public Perception Survey on Nuclear Energy in 2019 indicated that almost 79 percent of Filipinos expressed approval or acceptability of the possible use or rehabilitation of an existing nuclear power plant," the EO said.
The same survey showed that 65 percent approved the construction of new nuclear power plants and 78 percent are open to learning more about nuclear energy. (PNA)