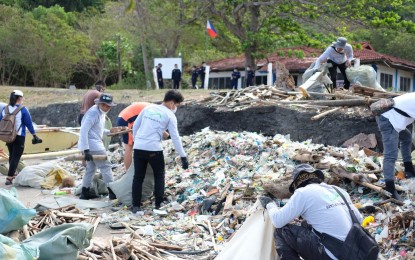 CITY OF SAN FERNANDO, Pampanga – The Department of Environment and Natural Resources-Central Luzon (DENR-3) office here has collected more than 39,000 kilograms of wastes at the northern part of Corregidor Island in line with intensified efforts to clean and rehabilitate the Manila Bay.
Paquito Moreno, Jr., executive director of the DENR-3, on Thursday said the initiative conducted over the weekend is aimed at keeping the Corregidor shoreline clean as this serves as the entry point to Manila Bay in the southern part of the region.
"Through this initiative, we are preventing waste from reaching our jurisdiction, especially those which may be carried in our shorelines during high tides," Moreno said in a social media post.
Solid wastes including styrofoam, food wrappers, packaging materials, plastic bottles, fishing nets, ropes, and slippers were collected by the DENR, together with partners from Philippine Coastguard Station in Lamao and Corregidor Island, Philippine Navy, Philippine Marine Corps Coastal Defense Regiment, Corregidor Foundation Inc., Philippine Ports Authority, Philippine Information Agency in Bataan, Municipal Environment and Natural Resources Office of Mariveles, and Barangay Lamao in Limay.
Moreno said although Corregidor Island is part of the Calabarzon region, it is geographically nearer to Mariveles, Bataan.
Meanwhile, the official called on the public to properly segregate their waste at home to protect river systems in the region from pollution.
So far, the DENR regional office has collected more than 18 million kilograms of waste from 8,772 cleanup activities in Bataan since the start of the Manila Bay cleanup and rehabilitation program in 2019.
Apart from Bataan, massive cleanup drives are also launched in other major river systems and tributaries of Manila Bay in the provinces of Bulacan, and Pampanga.
A total of 125 trash traps were installed in Bulacan, Bataan, and Pampanga to prevent solid wastes from reaching the coastlines of Manila Bay.
Of the 190-kilometer stretch of Manila Bay, 142 kilometers are within Central Luzon, traversing the provinces of Bulacan, Pampanga and Bataan. (PNA)