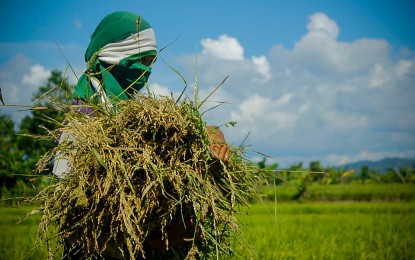 MANILA – The Rice Competitiveness Enhancement Fund (RCEF) contributed largely to the Philippines' food security amid the Covid-19 pandemic, an official of the Department of Agriculture (DA) said Thursday.
Deputy Executive Director of DA's Philippine Rice Research Institute Dr. Flordeliza Bordey said through the DA's RCEF, a program created by the Rice Tariffication Law, the total palay (unhusked rice) production recorded a consistent high since it was implemented in September 2019.
"Our total palay output only increased through the years since the implementation of RCEF. I must say that this has largely contributed to the country's food security at this time of pandemic," Bordey said.
Data from the Philippine Statistics Authority showed that palay production in 2018 was recorded at 19.07 million metric tons (MMT). This was higher by 5.1 percent from the 18.15 MMT in 2015 and 8.2 percent from the 2016 level. However, it was lower by 1.1 percent than the 2017 output.
After the implementation of RCEF, the country reached a record-high of 19.29 MMT in 2020. It was beaten by another record high palay output of 19.96 MMT, which was driven by the strong rice harvest in 2021 -- 3.45 percent higher than the previous production.
Agriculture Secretary William Dar said the country could have easily breached 20MMT in 2021 but Typhoon Odette damaged more than 130,000MT of palay.
"[This] shows, however, that we are on the right track in our continuing efforts to increase the production of our major staples, in partnership with millions of our farmers, local government units, private sector, and agri-fishery industry stakeholders," Dar said.
DA has implemented several measures to boost rice production last year through the Philippine Integrated Rice Program, which includes programs under the RCEF, the National Rice Program, and the Rice Resiliency Project (RRP).
The DA-Philippine Rice Research Institute (PhilRice) led the implementation of the RCEF-Seed Program and distributed 1.65 million bags (20 kg/bag) of certified inbred seeds during the 2021 dry season and 1.76 million bags during the wet season. These seeds benefited more than 660,000 and 713, 000 farmers during dry and wet seasons, respectively.
Bordey, meanwhile, added that since the start of their distribution in September 2019, over 8.5 million bags of rice seeds have been distributed nationwide.
She also urged farmers and fisherfolk to sign up with the Registry System for Basic Sectors in Agriculture (RSBSA) to facilitate access to any agriculture-related assistance program of the government.
RSBSA is the minimum requirement in availing of agriculture and fishery-related government services such as financial assistance, subsidiary funding, and insurance services.
The RSBSA is an electronic compilation of basic information of farmers, farm workers, fishers, and other target agriculture-related beneficiaries of the DA. Their data are encoded in the farmers and fishery registry system managed by the DA-Central Office.
Those registered in the electronic database of government agencies are given priority in the targeting and implementation of their respective programs, the DA said. (PNA)