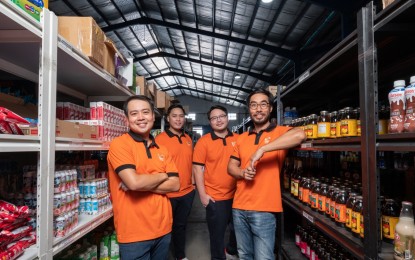 MANILA – Seeing the potential of the country's e-commerce, a Philippine-based e-commerce startup has raised USD10.7 million from regional and global investors to expand its business.
SariSuki, a virtual sari-sari store startup founded by former president of Grab Philippines and co-founder of Zalora Brian Cu, got funding from Openspace, Susquehanna International Group (SIG), Global Founders Capital (GFC), Saison Capital, JG Digital Equity Ventures, and Foxmont Capital Partners.
In a statement Thursday, Cu said the fresh funds aim to expand SariSuki's operations in the Philippines, particularly its coverage and product portfolio.
"SariSuki offers Filipinos value grocery products at extremely affordable prices that meet their daily needs. We are also empowering community leaders to be strong micro-entrepreneurs that will help propel the country's economic growth from the grassroots level," he added.
Cu, who is also the chief executive officer of SariSuki, said founders of the e-commerce startup have a wide understanding of the local market and are optimistic about the growth of the business.
Founded only in May 2021, SariSuki's gross merchandise value has grown 36 times in the past nine months.
It is now serving over 60,000 consumers in the Greater Manila Area, Bulacan, Cavite, Laguna, and some parts of Rizal and Pampanga.
"We are a set of founders that grew up in the Philippines and have an understanding of our market. This, combined with our background in scaling up large tech companies in the region, made us realize we can do more by increasing efficiencies in our supply chain infrastructure," Cu said.
SariSuki adopts a community group buy model. Those who sell their products on the platform are called Community Leaders or KaSari. SariSuki serves as a consolidator of grocery items of KaSari.
This business model has enabled SariSuki to offer supermarket-quality products at wet market prices.
SariSuki also buys fresh produce from local farmers and offers these to local communities at discounted prices.
The startup firm sees the opportunity in the local market as only 3 percent of the grocery and retail industry adopted e-commerce to sell their products despite the pandemic. (PNA)