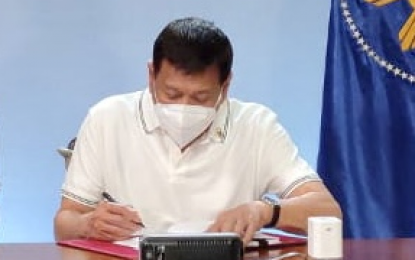 MANILA – President Rodrigo Roa Duterte has signed into law a bill raising the age of sexual consent from 12 to 16.
Republic Act (RA) No. 11648, signed by Duterte on March 4, amends RA 3815 or the Revised Penal Code and RA 7610 or the Special Protection of Children against Abuse, Exploitation, and Discrimination Act.
The law increased the age for determining statutory rape to 16 years old to provide more protection for young people against sexual exploitation and abuse.
Under the new law, rape is committed by a person who shall have carnal knowledge of another person "when the offended party is under 16 years of age or is demented, even though none of the circumstances mentioned above be present."
"Provided, that there shall be no criminal liability on the part of a person having carnal knowledge of another person under 16 years of age when the age difference between the parties is not more than three years, and the sexual act in question is proven to be consensual, non-abusive, and non-exploitative: Provided, further, that if the victim is under 13 years of age, this exception shall not apply," it added.
As used in this act, non-abusive shall mean the absence of undue influence, intimidation, fraudulent machinations, coercion, threat, physical, sexual, psychological, or mental injury or maltreatment, either with intention or through neglect, during the sexual activities with child victim, the law said.
On the other hand, non-exploitative shall mean there is no actual or attempted act or acts of unfairly taking advantage of the child's position of vulnerability, differential power, or trust during sexual activities.
Qualified seduction
RA 11648 also amended Articles 337 or "qualified seduction" of the Revised Penal Code which now reads: "The seduction of a minor, 16 and over but under 18 years of age, committed by any person in public authority, priest, home-servant, domestic, guardian, teacher, or any person who, in any capacity, shall be entrusted with the education of custody of the minor seduced, shall be punished by prision correctional in its minimum and medium periods."
"The penalty next higher in degree shall be imposed upon by any person who shall seduce his sister or descendant, whether or not she is a virgin or over 18 years of age," the amended provision added.
The new law said seduction is committed "when the offender has carnal knowledge of any of the persons and under circumstances described therein."
"The seduction of a minor, 16 and over but under 18 years of age, committed by means of deceit, shall be punished by arresto mayor," the amended Article 388 read.
Under the new law, children, whether male or female, who for money, profit, or any other consideration or due to coercion or influence of any adult, syndicate or group, indulge in sexual intercourse or lascivious conduct, "are deemed to be children exploited in prostitution and other sexual abuse."
RA 11648 also mandates the Department of Education (DepEd) to include in the basic education curriculum and teach age-appropriate subjects tackling the rights and protection of the children in relation to the law.
The new law is a consolidation of Senate Bill No. 2332 and House Bill No. 7836 passed on Dec. 15, 2021 and Dec. 14, 2021, respectively.
The previous 12-year-old minimum age of sexual consent in the Philippines was the lowest in Asia and one of the lowest in the world.
Last year, the United Nations (UN) Philippines called on Congress to urgently increase the age for statutory rape from below 12 years old to below 16.
"The UN has long voiced concerns about the alarmingly low age of sexual consent in the Philippines," UN resident and humanitarian coordinator Gustavo González said in a statement last July 2021.
Citing the 2015 National Baseline Study on Violence Against Children, González said one in every five children in the Philippines in the age group of 13 to 17 said they experienced sexual violence while one in 25 suffered from forced consummated sex during childhood. (PNA)